"Accro" Brandon Rosario

Information
Age (at audition)
33
Sex
Male
Act
Pole Dancer
Seasons
8
Position Reached
Vegas Round
"Accro" Brandon Rosario was a pole dancer act from Season 8 of America's Got Talent. He was eliminated in the Vegas Round.
Background
DJ Accro is a humble DJ who prefers to let his music and mixes do the talking about his style vs. an ego driven bio. He attended Le Cordon Bleu in college and majored in Culinary Arts.
Starting to DJ in late 2000, he found a love for blending beats and controlling a vibe. After moving to Vail, CO in '03, Accro played a seasonal gig at Club 8150 for crowds over 300 people strong hailing from international countries. After 4 ski seasons and numerous underground parties it was time for a change and the move to Las Vegas was present.
Floating in and out of the industry it wasn't until summer of 2010 that HE moved to Wet Republic @ MGM Grand and I had my residency there playing the full array of music typical of Vegas venues.
Also being "Accro", stemming from his hobby of acrobatics, introduced to me in 2008, he works on creating a blend of musical performance and visual entertainment with aerial performers and acrobats, including himself. [1]
Audition
"Accro" Brandon Rosario's audition was never televised, but Howard Stern, Heidi Klum, Mel B, and Howie Mandel all voted "Yes," sending him to the Vegas Round.
Vegas Round
Accro was sorted into the "Acrobat" category in the Vegas Round. His performance in Episode 808 consisted of hanging onto a pole with his hands and portraying himself walking horizontally on the air. Accro's performance was not strong enough for the judges to send him to the Quarterfinals, eliminating him from the competition along with Tavi & Antonio in Episode 809.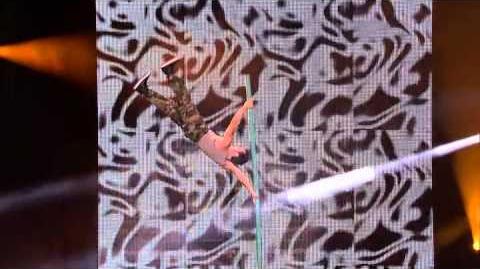 External Links
Season 8 Vegas Round

Immediate Decision
Performed Day 1
Performed Day 2