212 Green

Information
Age (at audition)
14-22
Sex
Mixed
Act
Soul Pop Band
Seasons
8
Position Reached
Vegas Round
212 Green was a soul pop band act from Season 8 of America's Got Talent. They were eliminated before the Vegas Round.
Background
212 Green is from New York City. Siblings born and raised in New York City, as Tori, Kyra and Riley Green, 212GREEN was introduced to classical piano, dance and voice lessons each at the age of 7 and guitar at age 10, a healthy escape to the hard inner-city street life that exists right outside their door. These siblings are influenced by many things. First and foremost is their hometown, New York City! They've lived on the East and West sides, Uptown and Downtown so they know all the special little spots...the crazy spots too (shout out to the East Village and Harlem!!!)
Filtered through their devout respect of vintage soul, modern hip-hop, and pop, these classically trained musicians have developed a fusion that will lead critics to call them the new Jackson 5 with a hip-hop edge. Though still teenagers, it seems that their entire life has been a nurturing experience, preparing them for a lifetime career in music.
These three siblings attend rigorous academic schools while committing to piano, guitar, dance and vocal lessons each week. 212GREEN also grew up listening to the likes of Etta James, Aretha Franklin, Jackson 5, Mariah, Whitney, Donny Hathaway, Jackie Wilson as well as Bruno Mars, Maroon 5, Pink, B.O.B, Beyonce, Lady Gaga, Brittany, Christina Aguilera and some alternative stuff... Dubstep.
This trio of siblings writes all of their music, all having a hand in each process but bringing their own strengths to the collaboration. Riley creates the instrumental piece, Kyra develops the melody and Tori writes the lyrics. At 13, Tori wrote her first song, "Don't Text It," which was sold to and is featured on a European pop star's debut album. 1
Audition
212 Green's audition in Episode 806 consisted of singing its rendition of "Rumour Has It." Howard Stern, Heidi Klum, Mel B, and Howie Mandel all voted "Yes," sending the group to the Vegas Round.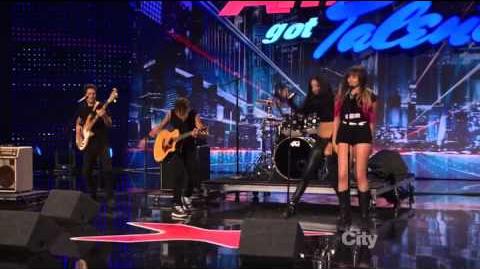 Vegas Round
212 Green did not perform in the Vegas Round, meaning they either withdrew or were cut by the judges before this stage of the competition.
After the Show
Kyra Green was a contestant on the first season of the US version of Love Island.
Trivia
The members of 212 Green, especially Tori, are big fans of judge Mel B and her music.
External Links