Aaralyn & Izzy were a heavy metal singer and drummer in Season 8 of America's Got Talent. They were eliminated in the Quarterfinals.
Band Members
The band is called Murp and includes:
Aaralyn Oneil - vocals (2010-present)

Isaiah "Izzy" Oneil - drums (2010-present), piano (2015-present)

Jason "Jay" Oneil - guitar (2010-present)

Brian "Boru" Kelley - occasional guitar (2011-present)

Micheal Oneil - occasional bass (2011-2013, 2014-present)

Jonny Friday - guitar and bass (2012-present, filling in for Jason)
Former Members
Jeff Moore - keyboards (2012-2014)

Alex - bass (2013-2014)

Joseph Carrinola - didgeridoo (2015)
Backing band at Radio City (2013)
Josh Musto- guitar

Joshua Veal - guitar

Karina Rykman - bass
Background
The band formed in 2010 when three-year-old Aaralyn Oneil wanted to participate in the basement jams of her six-year-old brother Izzy (drums) and their dad Jason (guitar). No one, especially dad, was prepared for what came out of little Aaralyns mouth that day when she got her hands on her very own microphone.
Calling themselves 'Murp', the family went on to upload over 50 songs to their YouTube channel over the next three years. Her unique singing style and creative lyrics have earned them a dedicated following of fans lovingly dubbed "Murpsters".
Whether the subject matter is about Zombies, Lullaby's or the pain associated with brushing knotted hair, Aaralyn and Izzy continue to grow and explore themselves through music. While six-year-old girls like to sing pop songs and country songs, Aaralyn prefers singing black metal. 1
Audition
Aaralyn & Izzy's audition in Episode 804 consisted of Aaralyn "scream-singing" an original piece, "Zombie Skin," about a zombie planning to eat someone up, while Izzy played the drums. Howard Stern (claiming he only hit the buzzer because he was afraid Aaralyn's voice was going to blow out) and Mel B both buzzed the act. Although Mel B voted "No," Howard, Heidi Klum, and Howie Mandel voted "Yes," sending the duo to the Vegas Round.
Vegas Round
Aaralyn & Izzy were sorted into the "Kid Musicians" category in the Vegas Round. The duo's performance in Episode 809 consisted of Aaralyn scream-singing another original Heavy Metal piece titled "Lullaby Crash" while Izzy played the drums. Their audition was strong enough for the judges to send them to the Quarterfinals along with Chloe Channell and Ciana Pelekai.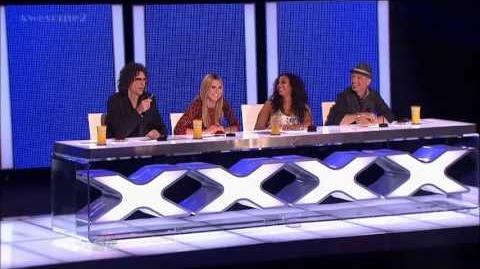 Quarterfinals
Aaralyn & Izzy's Week 1 Quarterfinals performance in Episode 810 consisted of Aaralyn scream-singing the duo's original song, "Dog Poop," while Izzy played the drums. This time, the duo was accompanied by a band. Howard Stern buzzed the act. They did not receive enough votes to be sent to the Semifinals in Episode 811, eliminating them from the competition along with Alexanderia the Great and Kevin Downey Jr..
Trivia
Aaralyn & Izzy are the first act of Season 8 to be buzzed in the live shows.
They currently have the sixth most viewed AGT YouTube video in America's Got Talent history with over 40 million views, behind Kodi Lee's golden buzzer, Season 8 winner Angelica Hale's golden buzzer from The Champions, Courtney Hadwin's golden buzzer from Howie Mandel, Darci Lynne's golden buzzer from Mel B, Kenichi Ebina's audition, and Grace VanderWaal's audition and golden buzzer.
External Links