Alexanderia the Great was an escape artist in Season 8 of America's Got Talent. She was eliminated in the Quarterfinals.
Background
In a world full of male escape artists, Alexanderia the Great is one of the only females daring enough to try and go beyond Houdini. From setting world records on national TV, to performing one-of-a kind death-defying escapes, you can count on Alexanderia to do something extraordinary. It is all in a day's work for "A Modern Day Houdini" according to Fox News Channel. Alexanderia the Great holds 6 world records and is one of only two women ever to perform at the International Brotherhood of Convention and the first to do an underwater escape.
Alexanderia has always been interested in magic, especially escapes, since she was a little girl. She was always trying to beat the boys in whatever they did. In high school, she saw an old Tony Curtis film where he portrayed the great Houdini. She was mesmerized. The way Houdini captivated audiences worldwide with his daring feats inspired her. She immediately began trying to reenact some of his escapes.
Simply duplicating Houdini's escapes was not enough for her, however. She needed to surpass the master. In her training, she worked on increasing my strength, breath hold times and the ability to deal with more pain. For example, Alexanderia can escape from twice as much weight as Houdini did in his underwater escapes. She set a new world record for the fastest extreme straitjacket escape. Her regulation strait jacket was secured by 50 feet of chain and 10 padlocks. She escaped in 2 minutes and 37 seconds.
Pushing the envelope and wowing audiences are what motivate Alexanderia. she loves the adrenaline rush she gets when challenged to escape the impossible. Physically escaping the restraints is very therapeutic to me. It is an amazing feeling to escape when others think she cannot. 1
Audition
Alexanderia the Great's audition in Episode 802 consisted of  jumping into a pool after her hands and legs have been shackled and 30 feet of chain have been wrapped around her body with eight padlocks. She escaped from her chains after 96 seconds. Howard Stern, Heidi Klum, Mel B, and Howie Mandel all voted "Yes," sending Alexanderia to the Vegas Round.
Vegas Round
Alexanderia the Great was one of thirty acts to advance straight to the Quarterfinals in New York without performing in Las Vegas in Episode 808.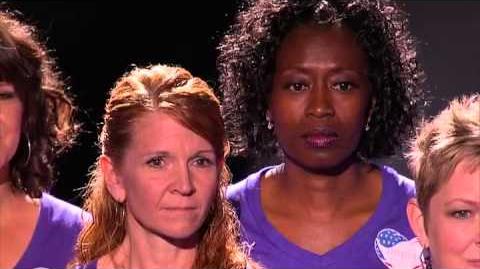 Quarterfinals
Alexanderia the Great's Week 1 Quarterfinals performance in Episode 810 consisted of escaping in less than 90 seconds from a strait jacket with 25 feet of chain and 5 padlocks in a tank filled with water on the stage. She did not receive enough votes to be sent to the Semifinals in Episode 811, eliminating her from the competition along with Aaralyn & Izzy and Kevin Downey Jr..
External Links
Season 8 Vegas Round

Immediate Decision
Performed Day 1
Performed Day 2