Alexandr Magala

Information
Age (at audition)
23
Sex
Male
Act
Sword swallower
Seasons
8
Position Reached
Quarterfinalist
Alexandr Magala was a sword swallower act in Season 8 of America's Got Talent. He was eliminated in the Quarterfinals.
Background
Alexandr Magala is from Moldova. In addition to sword swallowing, Alexandr is also an experienced aerialist and pole dancer. 1
Audition
Alexandr Magala's audition in Episode 806 consisted of "swallowing" a sword and break dancing with the sword kept in his mouth. Howard Stern, Heidi Klum, Mel B, and Howie Mandel all voted "Yes," sending Alex to the Vegas Round.
Vegas Round
Alexandr Magala was sorted into the "Danger Acts" category in the Vegas Round. His performance in Episode 808 consisted of swallowing a sword and then dancing and sliding down the pole with the sword still in his mouth. His performance was strong enough for the judges to send him to the Quarterfinals along with Brad Byers and Sam Johnson in Episode 809.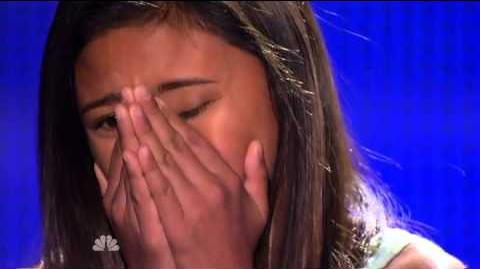 Quarterfinals
Alexandr Magala's Week 2 Quarterfinals performance in Episode 812 consisted of sliding down a pole while holding firecrackers and performing a backflip with a sword in his mouth. Alexandr did not receive enough votes to be sent to the Semifinals in Episode 813, eliminating him from the competition along with Ciana Pelekai, instead of Marty Brown.
After the Show
Alexandr auditioned for the 10th season of Britain's Got Talent and managed to make it to the Finals, becoming the first BGT act that originally was on AGT to make it to the finals. He finished in 9th place. He also auditioned for France and Russian versions of Got Talent, winning the Russian one in 2014.
Other Appearances
Trivia
To date, Alexandr Magala has the distinction of placing the highest on his Britain's Got Talent season of all known acts that have been on both BGT and a regular season of America's Got Talent, coming in 9th place in the Final. Season 13 act UDI came closest to his record, as they finished 10th on their season of BGT.
External Links