The American Military Spouses Choir were a choir act from Season 8 of America's Got Talent. They were eliminated in the Semifinals.
Background
The American Military Spouses Choir (previously known as Homefire) has given a voice to American Military spouses through music. Their first single "The Promise" was commissioned by famed Producer David Foster and written by Charlie Midnight ("Living In America"), Jay Landers (head of A&R for Universal Music) and Bernie Herms (writer and producer for Natalie Grant).
The group came together after rigorous and quick casting at the request of Foster, who had a performance scheduled at the Kennedy Center and wanted to include a choir of Military Wives. Foster contacted CAMMO (The Center For Military Music Opportunities), and they quickly (within 2 weeks) answered the call with an exhaustive search. The day after they met - and with only one rehearsal - these spouses found themselves on the stage of the Kennedy Center with Jewel, Chaka Khan and Chris Botti as the finale to a star-studded show of David Foster and Friends.
Says Victor Hurtado, CAMMO Artistic Director, "this song is a spouse's lullaby, to make sense and remind our service members that, no matter what they may face, they are not alone. They are words that not only empower them, but are reflective of a life partner's words that soothe them in the rare moments of rest on the field of battle". 1
Audition
American Military Spouses Choir's audition in Episode 803 consisted of singing a choral version of "Ain't No Mountain High Enough." Howard Stern, Heidi Klum, Mel B, and Howie Mandel all voted "Yes," sending the group to the Vegas Round.
Vegas Round
American Military Spouses Choir was one of thirty acts to advance straight to the Quarterfinals in New York without performing in Las Vegas in Episode 808.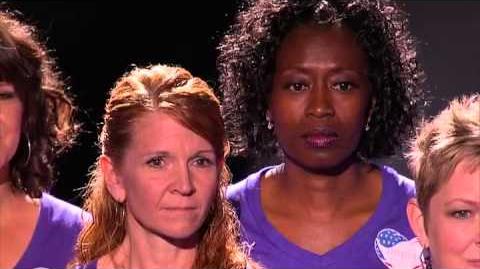 Quarterfinals
American Military Spouses Choir's Week 3 Quarterfinals performance in Episode 814 consisted of singing Mariah Carey's "Hero" as a group. Howie Mandel gave the choir a standing ovation. The choir received enough votes to be sent to the Semifinals in Episode 815 instead of Brandon & Savannah and Kelsey and Bailey.
Semifinals
American Military Spouses Choir's Week 2 Semifinals performance in Episode 822 consisted of singing a choral rendition of Sarah McLachlan's "Angel." The group did not receive enough votes to be sent to the Finals in Episode 823, eliminating it from the competition along with Timber Brown, instead of Branden James.
External Links
Season 8 Vegas Round

Immediate Decision
Performed Day 1
Performed Day 2