American Shaolin Kung Fu were a martial arts group act from Season 9 of America's Got Talent. They were eliminated in the audition round.
Background
American Shaolin Kung Fu, located in Sugar Land, Texas, has been operating since 2008. For over 10 years, First Master Feng has taught martial arts in the Houston and Sugar Land area. The school offers a wide variety of classes to suit a number of individuals. Some classes include: Kung Fu, Tai Chi, Qi Gong Meditation, and San Da as well as private one-on-one lessons and summer kung fu programs. 1
Audition
American Shaolin Kung Fu's audition in Episode 902 consisted of Shaolin Kung Fu techniques such as hopping in the air with swords, Bo staffs and shields. The verdict was not televised, but Howard Stern, Heidi Klum, Mel B, and Howie Mandel all voted "No", eliminating the group from the competition.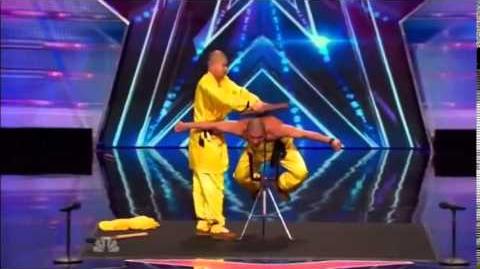 External Links