Aquanuts was a synchronized swimming group act in Season 8 of America's Got Talent. It was eliminated in the Quarterfinals.
Background
The Walnut Creek Aquanuts (WCA) is a world-renowned synchronized swim club based in Walnut Creek, California. Over its 45-year history, WCA has produced over 30 Olympic athletes and garnered more than 200 national and world competition titles. WCA is a volunteer-run, non-profit organization, with a roster of over 100 athletes ranging in age from 6 - 21, and in ability from novice to Olympic hopeful. 1
Audition
The Aquanuts' audition in Episode 807 consisted of synchronized swimming with high heels on in a pool outside of the stage. Heidi Klum, Mel B, Howie Mandel, and possibly Howard Stern voted "Yes," sending the group to the Vegas Round.
Vegas Round
Aquanuts was one of thirty acts to advance straight to the Quarterfinals in New York without performing in Las Vegas in Episode 808.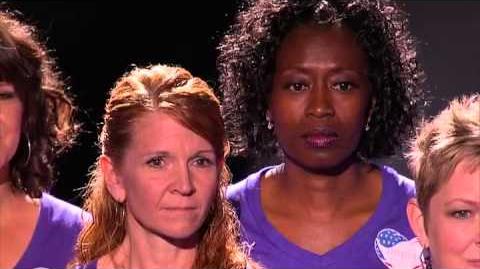 Quarterfinals
The Aquanuts' Week 2 Quarterfinals performance in Episode 812 consisted of synchronized swimming to Rihanna's "Diamonds." They did not receive enough votes to be sent to the Semifinals in Episode 813, eliminating them from the competition along with the Struck Boyz, instead of Innovative Force.
External Links
Season 8 Vegas Round

Immediate Decision
Performed Day 1
Performed Day 2