Archbishop Molloy Step Team

Information
Age (at audition)
14-18
Sex
Male
Act
Dance Group
Seasons
8
Position Reached
Vegas Round
Archbishop Molloy Step Team is a dance group act from Season 8 of America's Got Talent. The group was eliminated in the Vegas Round.
Background
The AMHS Boys Step Squad is a team of steppers that compete with other high schools across NYC and the nation. 2011 - 2012 was the most successful season in its history, highlighted by being ranked #1 in the nation by Break the Stage National Step Competition, being ranked 6th in the nation by the New York Daily News and Youth Step USA National Step Competition, and winning trophies in nine out of ten competitions.
Its members practice five days a week for, on average, two hours a day. Step at Molloy is a year-long sport that demands hard work and dedication. Practices include creating, learning, and perfecting routines. Unique to Molloy, the steppers themselves coordinate and choreograph all performances, whereas other teams often have a third-party choreographer.
Situated in Briarwood, one of the most diverse neighborhoods in the United States, Molloy prides itself on its extremely diverse step team. The team is represented by various ethnic backgrounds that are willing to learn and excel in the traditional African art of step. The AMHS Boys Step Squad is open to all Archbishop Molloy students and holds tryouts twice a year, once in the fall and again in the spring. [1]
Audition
Archbishop Molloy Step Team's audition was never televised. It is unknown whether or not it was buzzed, but at least three judges voted "Yes," sending it to the Vegas Round.
Vegas Round
Archbishop Molloy Step Team was sorted into the "Dance" category in the Vegas Round. Its performance in Episode 808 consisted of stepping and slapping their bodies as a group to create rhyhmic music. The team's performance was not strong enough for the judges to send it to the Quarterfinals, eliminating it from the competition along with Art Spark.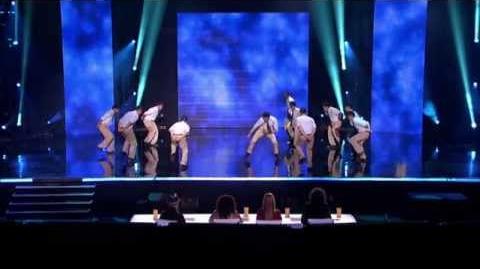 External Links
Season 8 Vegas Round

Immediate Decision
Performed Day 1
Performed Day 2