Ariann Black was a magician from Season 8 of America's Got Talent. She was eliminated in the Vegas Round.
Background
Originally from Canada, Ariann started playing with Magic at an early age. She studied Musical Theater in College, and currently is the only professional female magician to have a degree in Magic. As a young magician, Ariann spent time studying magic with Doug Henning.
Ariann's incredible performances captivate audiences the world over, her magic is truly one of a kind. A drive for perfection has won Ariann several awards most recently Magician of the Decade by IDM and Magician of the Year 2011. These awards are top honors as they break down the gender barrier and have made Ariann stand out as more than just an equal amongst her peers. She has also been awarded Female Magician of the year internationally for 2004, 2008, and 2009. She is extremely honored to have been granted such an award. 1
Audition
Ariann Black's audition was never televised, but although Howie Mandel voted "No," Howard Stern, Heidi Klum, and Mel B all voted "Yes," sending her to the Vegas Round.
Vegas Round
Ariann Black was sorted into the "Magicians" category in the Vegas Round. Her performance in Episode 809 consisted of creating the illusion of one of her assistants passing through her body through a box. Ariann's audition was not strong enough for the judges to send her to the Quarterfinals, eliminating her from the competition in the same episode.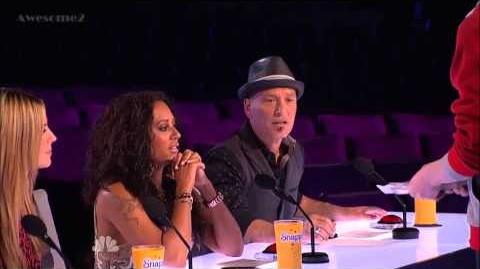 External Links
Season 8 Vegas Round

Immediate Decision
Performed Day 1
Performed Day 2