AscenDance

Information
Age (at audition)
29
Sex
Mixed
Act
Rock Climbing Dancers
Seasons
5
Position Reached
Semifinalist
AscenDance was a rock climbing dancer duo act from Season 5 of America's Got Talent. It was eliminated in the Semifinals.
Background
While living in her van in Berkeley, California, climber and dancer Isabel Von Rittberg made her dream become reality as she built her first climbing wall designed for dancing. Passionately dedicated to integrating the precision and strength of climbing with expressive movement and music, she founded AscenDance Project. In 2005, Ryan Gaunt met Von Rittberg for the first time climbing on the Eastern side of the Sierras. Inspired by her vision, he joined AscenDance in 2006 after working for Yosemite National Park Search and Rescue. Two years later, he proposed to Isabel during a performance at Union Square, in San Francisco, California. Together and with their company of dancers, they have created an entirely new dance vocabulary for the vertical floor. Their dream is to bring rock climbing to the stage, conveying its magnificence, strength and grace to audiences across the world. 1
Audition
AscenDance's audition in Episode 508 consisted of "dancing" on rock walls and performing acrobatic tricks such as hanging onto the wall with just feet. Piers Morgan, Sharon Osbourne, and Howie Mandel all voted "Yes," sending the act to the Vegas Round.
Vegas Round
AscenDance was one of the Judges' Favorites in the Vegas Round. It was sorted into the "Acrobats" category. Its performance in Episode 511 consisted of again "dancing" and performing acrobatic tricks on a rock wall. Its audition was strong enough for the judges to send it to the Quarterfinals.
Quarterfinals
AscenDance's Quarterfinals performance in Episode 515 consisted of dancing on rock walls to "Chasing Cars," this time with two additional climbers. It received enough votes to be sent to the Semifinals in Episode 516 instead of Mona Sampath Dance Company and Ronith.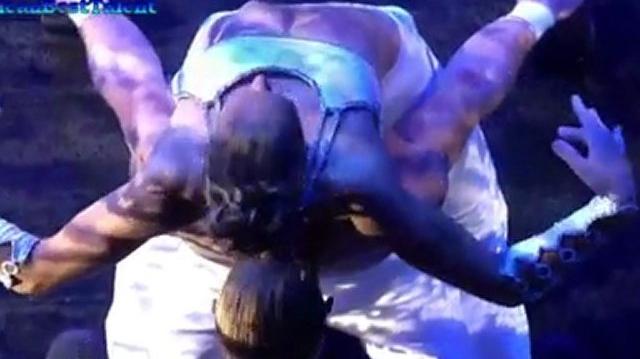 Semifinals
AscenDance's Semifinals performance in Episode 525 consisted of dancing on rock walls to "Say It Right." Piers Morgan buzzed the act. It did not receive enough votes to be sent to the Finals, eliminating it from the competition in Episode 526 instead of Anna and Patryk.
External Links
Community content is available under
CC-BY-SA
unless otherwise noted.