Baila Conmigo was a salsa dance group act from Season 9 of America's Got Talent. It was eliminated in the Semifinals.
Background
During the summer of 2009, Ana Ferris began taking Zumba fitness classes at Scantic Valley YMCA in Wilbraham, MA and soon afterward was asked if she wanted to become licensed and teach. That Saturday morning changed her life. Immediately Ana booked a Zumba instructor training course with Tanya Beardsley, a renowned Zumba Education Specialist. Ana started teaching her own Zumba® fitness classes and now teaches 7 days a week while maintaining a full time job as a Financial Services Professional. To better serve her Zumba fitness clients, she decided to open her own dance fitness studio, Baila Conmigo Dance Studio in West New York, New Jersey after teaching for over 3 years. Ana is married to an avid golfer and has 2 daughters who love to dance competitively.
Baila Conmigo means "Dance with Me" in Spanish. 1
Audition
Baila Conmigo's audition in Episode 904 consisted of four dance pairs performing Colombian Salsa dancing. In the middle of the act, a group of 18 children joined the dance. Howard Stern, Heidi Klum, Mel B, and Howie Mandel all voted "Yes," sending the group to Judgment Week.
Judgment Week
Baila Conmigo was sorted into the "Dance Groups" category in Judgment Week. The group's performance in Episode 908 consisted of a salsa routine involving fast-paced dancing in pairs with lifts in the air. Despite one dancer's noticeable mistake during the routine, the judges were so impressed that they opted to send Baila Conmigo to the Quarterfinals immediately.
Quarterfinals
Baila Conmigo's Week 1 Quarterfinals performance in Episode 909 consisted of dancing a fast-paced salsa routine involving flips and synchronous couple dancing, all with a jungle theme. Mel B gave the group a standing ovation. The group finished in fifth or sixth place in America's Vote. In the Judges' Choice, although Mel B did not vote for it, Howard Stern, Heidi Klum, and Howie Mandel did, sending it to the Semifinals in Episode 910 instead of Flight Crew Jump Rope.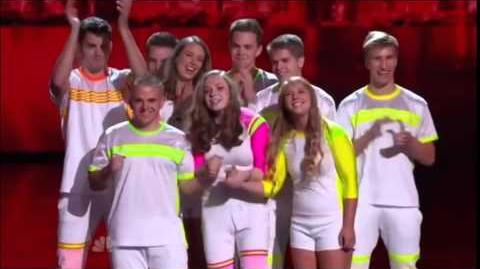 Semifinals
Baila Conmigo's Week 2 Semifinals performance in Episode 919 consisted of dancing a fast-paced salsa routine involving synchronous couple dancing and a wave across a line, all while wearing yellow and pink outfits. Heidi Klum and Mel B gave the group standing ovations. Baila Conmigo did not receive enough votes to be sent to the Top 12 Finals, eliminating it from the competition in Episode 920 instead of AcroArmy.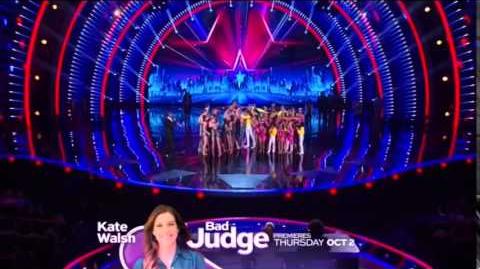 External Links
Season 9 Judgment Week

Immediately Moved On
Performed, Day 1
Performed, Day 2
Moved On (Untelevised)
Season 9 Quarterfinals

3 • 4 • 5 • 6 • 7 • 8 • 9 • 10 • 11 • 12 • 13 • 14 • 15 • 16

Week 1
Week 2
Week 3
Week 4
Wild Card