Benn Mendoza Circus was a circus group act from Season 7 of America's Got Talent. It was eliminated in the Vegas Round.
Background
Benn Mendoza Circus, also known as The Midnight Circus, encompasses performers who hail from all over the globe - actors and acrobats, aerialists and eccentrics, clowns and contortionists, singers, dancers, musicians, and a lone dog. Though their talents are varied, they are united by a passion for community, a commitment to artistry, and a shared vision for bringing together their diverse art forms to create something exciting, accessible, and uniquely urban. Whether enchanting families in a park under our intimate, blue and purple Big Top, sharing the stage with musicians in a a genre defying, high-flying, music and theatrical explosion, or creating a one of a kind corporate event, Midnight Circus never fails to entertain and inspire its audience. 1
Audition
Benn Mendoza Circus's audition in Episode 710 consisted of dancing as a group and performing aerial feats such as hanging on trapeze and a chandelier-like object. Although Howard Stern voted "No", Sharon Osbourne and Howie Mandel both voted "Yes", sending them to the Vegas Round.
Vegas Round
Benn Mendoza Circus was one of the Standby Acts in the Vegas Round. It was sorted into the "Acrobats" category. Its performance in Episode 713 consisted of performing a circus-acrobatic interpretation of Alice in Wonderland. Its audition was not strong enough for the judges to send it to the Quarterfinals, eliminating it from the competition along with Summer Lacy.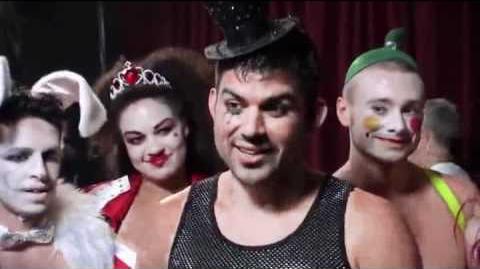 External Links
Season 7 Vegas Round

Uncategorized
Judges' Favorites
Standby Acts
Withdrew
Disqualified