Big Barry was a singer act from Season 7 of America's Got Talent. He was eliminated in the Quarterfinals.
Background
Big Barry, whose real name is Barry Layne, is a singer from Providence, Rhode Island. The crooner (who can also play the drums) performs songs from the '60s, '70s and '80s. A 20-year veteran performer, Barry is four feet and seven inches tall. 1
Audition
Big Barry's audition in Episode 709 consisted of singing "I've Got the World on a String." Howard Stern buzzed the act. Although Sharon Osbourne voted "No," Howard Stern and Howie Mandel both voted "Yes," sending him to the Vegas Round.
Vegas Round
Big Barry was one of the Standby Acts in the Vegas Round. He was sorted into the "Novelty Acts" category. His performance in Episode 713 consisted of singing his interpretation of "New York, New York." His audition was strong enough for the judges to send him to the Quarterfinals.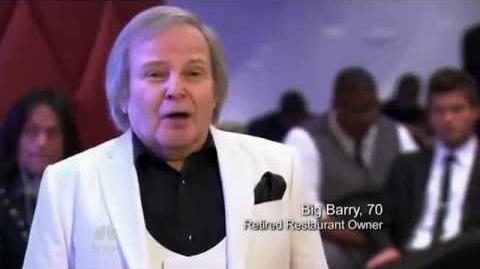 Quarterfinals
Big Barry's Quarterfinals performance in Episode 716 consisted of singing "Feeling Good" while being surrounded by supermodels. Howard Stern and Sharon Osbourne both buzzed the act. Howie Mandel gave him a standing ovation, however Sharon hit his buzzer during the Judges Comments. He did not receive enough votes to be sent to the Semifinals, eliminating him from the competition in Episode 717 along with Aurora Light Painters, Lisa Clark Dancers, and The All Ways.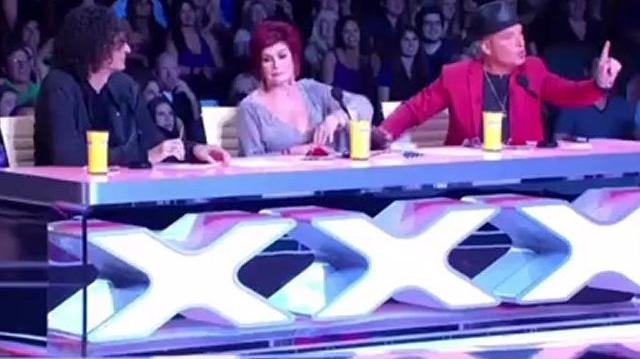 Trivia
Despite being portrayed as being in the "Novelty" category in the Vegas Round, Big Barry was actually placed into the Standby "Male Singers" category, along with untelevised contestants Octavius Womack, Eddie Rodriguez, Ryan Gallagher, and Chris McCarty. Obviously, Barry was the only one to move on from this group.
In the Finale results, Howie played a trick on Howard by giving him a bag with a "surprise in it," the bag, of course, containing Big Barry himself.
Big Barry was the oldest Season 7 Quarterfinalist, being 70 years old.
Big Barry was featured in the Season 10 Finale.
External Links
Season 7 Vegas Round

Uncategorized
Judges' Favorites
Standby Acts
Withdrew
Disqualified
Season 7 Quarterfinals

3 • 4 • 5 • 6 • 7 • 8 • 9 • 10 • 11 • 12 • 13 • 14 • 15 • 16

Week 1
Week 2
Week 3
Week 4
YouTube
Wild Card