Breaksk8

Information
Age (at audition)
21-30
Sex
Male
Act
Rollerblade Dance Group
Seasons
4
Position Reached
Quarterfinalist
Breaksk8 was a rollerblade dance group act from Season 4 of America's Got Talent. It was eliminated in the Quarterfinals.
Background
Breaksk8 is based out of Kokomo, Indiana. It was founded by Shannon Anthony and Jesse Nice in late 2000. By 2001, Jordan McQuiston and Tyson Neal joined the group. They skated at the local Kokomo rink all the time.The four of them soon became bored of skating at the same rink, so they started touring the Midwest skating at many other rinks.After traveling and performing at several rinks Breaksk8 got a call from the AND1 basketball team wanting them to perform half-time at a game in Breaksk8's home town of Kokomo. Shannon then called on fellow skater Tony Zane from Lansing, IL to come perform with them and that's when the 2003 BEC "Breaksk8 Entertainment Crew" was formed. [1]
Audition
Breaksk8's audition in Episode 410 consisted of dancing while wearing rollerblades as a group to Flo Rida's "Low." Piers Morgan buzzed the act. Although Piers voted "No," Sharon Osbourne, and David Hasselhoff both voted "Yes", sending the group to the Vegas Round.
Vegas Round
Breaksk8 was one of three dance groups selected in Episode 411 to participate in a challenge. Each group had 12 hours to rehearse a routine to the same music selection of the judges. Breaksk8's performance in Episode 412 consisted of dancing to a group to Flo Rida's "Jump." The group's performance was strong enough for the judges to send it to the Quarterfinals that same episode instead of Destined 2 Be and U4RIA Dance Crew.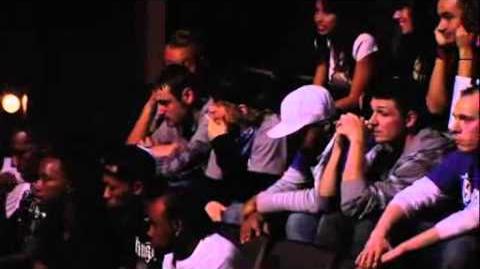 Quarterfinals
Breaksk8's Week 1 Quarterfinals performance in Episode 413 consisted of rollerblading and break dancing to Michael Jackson's "Smooth Criminal," all with a heist theme that concluded with one dancer stealing a bag of money. Breaksk8 did not receive enough votes to be sent to the Semifinals, eliminating it from the competition in Episode 414 instead of Acrodunk.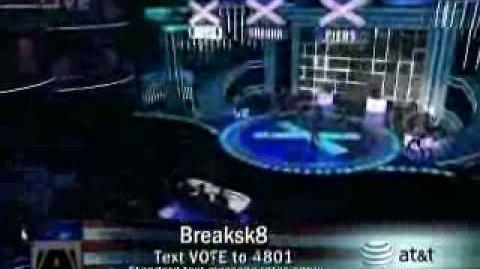 External Links
Community content is available under
CC-BY-SA
unless otherwise noted.