Bruce Block was a magician and variety act from Season 2 and Season 3 of America's Got Talent. He was eliminated in the Vegas Round in Season 2, and the Quarterfinals in Season 3.
Background
Bruce Block's career started when he was eight in his hometown of St. Joseph, Michigan. One day, Bruce's father juggled two balls with one hand for him. Determined to do better, Bruce started practicing. Not only did he become a better juggler than his father; he accomplished feats that earned him recognition around the world. By age fourteen, Bruce was acting, juggling and performing magic at local theaters. At age fifteen he was hired by radio station WSJM/WIRX. The FCC laws would not allow him on the air until he turned sixteen. So on his birthday, he hosted his first radio show.
During an appearance in his high school variety show, Bruce balanced 35 cigar boxes on his chin. The 1986 "Guinness Book of Records" recognized this as a world record. Bruce went on to break and re-break this record, appearing in eight consecutive "Guinness Books". His final record of 213 boxes balanced for 9.2 seconds appeared in the 1993 book. Norris McWhirter, the founding editor of the Guinness Book calls this accomplishment "On the edge of possibility."
Bruce continued honing his talents by singing, dancing, and acting in productions of "Kiss Me Kate,""Lil' Abner," "Guys and Dolls," "Camelot," "The King and I," "Carousel" and others. After a six-month run in the burlesque musical "Sugar Babies," Bruce met veteran vaudeville comedian Buddy Graf. Bruce appeared at Buddy's Midwest Theater working as Buddy's sidekick and straight man. Bruce became a friend and protégé to this Top Banana who taught him the tools of the trade. Soon Bruce was using many different talents to entertain his audience.
Nothing proved as big of a challenge to Bruce's versatility as appearing in the title role of P.T. Barnum in the national touring company of the Broadway musical "Barnum." The role of Barnum is one of the most difficult that Broadway has seen. As well as acting, dancing, and singing, the part also calls for Barnum to juggle, perform magic, and walk a tight rope. If this were not enough, Bruce added his own flair to the role by delivering one song from on top of a six foot unicycle and recreating his world record cigar box balance, only this time with the boxes disguised as bricks from "Barnum's American Museum."
It was while researching the role of P.T. Barnum that Bruce became fascinated with the sideshow. Not unlike his love for vaudeville, Bruce found that forgotten routines were the perfect catalyst for his already off beat sense of humor. His approach was fresh, hip, and hilarious. Bruce became a popular act at colleges, comedy clubs, and cruise lines. He is a regular in Las Vegas, having appeared at The Gold Nugget Casino Hotel, the Sahara Hotel Casino, and the Stratosphere.
Bruce has appeared on "The Tonight Show with Jay Leno,""The Jerry Lewis Labor Day Telethon," "Comedy Central," "CBS This Morning," "Entertainment Tonight," "CNN News," and as Captain Pete on the popular children's television series "Mighty Morphin Power Rangers." Bruce has worked with Jay Leno, Joan Rivers, Gary Shandling, Regis Philbin, Jeff Foxworthy, Cybil Shephard, Harry Blackstone Jr., Steve Harvey, Richard Carpenter, Judy Tenuta, Nipsey Russell, Arsenio Hall, Howard Stern, The Mavericks, Porno for Pyros, Alan Jackson, and many others. 1
Season 2 Audition
Bruce Block's audition in Episode 204 consisted of having a live rabbit come out on stage and speak into a microphone, with Bruce providing the voice of the rabbit. Bruce was off stage during the entire act. Piers Morgan buzzed the act. Although Piers voted "No," Sharon Osbourne and David Hasselhoff both voted "Yes," sending Bruce to the Vegas Round.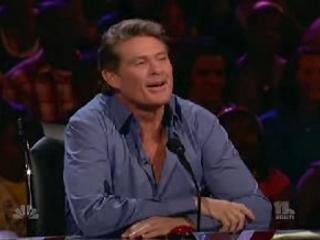 Season 2 Vegas Round
Bruce Block was sorted into the "Variety" category during the Vegas Round. He planned to give a performance in which he lies down on a bed of nails, but his assistant cancelled the plans the night before. Instead, his performance in Episode 205 consisted of a "pulling a rabbi out of a hat trick", in which an assistant dressed in a fake beard and hat is hidden under a table with three large hats on top of the table. In the end, despite the body of the rabbi being visible under the table, his head was not visible under the hat he was sitting under, or either of the other two. Bruce Block's audition was not strong enough for the judges to include him in the Top 35 shortlist, eliminating him from the competition along with Granny Pearl.
Season 3 Audition
Bruce Block's audition in Episode 305 consisted of lying on a bed of nails while his assistant sang "Anything Goes" and danced on top of him. Piers Morgan buzzed the act. Although Piers voted "No", Sharon Osbourne and David Hasselhoff both voted "Yes", sending Bruce to the Vegas Round. David then joined the stage to stand on Bruce as well to prove the validity of the bed of nails.
Season 3 Vegas Round
Bruce Block was sorted into the "Extreme Performers" category in the Vegas Round. His performance in Episode 308 consisted of escaping from a straitjacket and dancing with short people. Bruce's audition was strong enough for the judges to include him in the Top 60 shortlist and to later send him to the Top 40 Quarterfinals in Episode 309.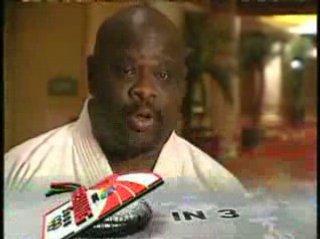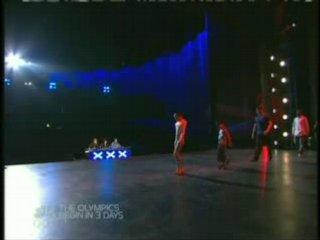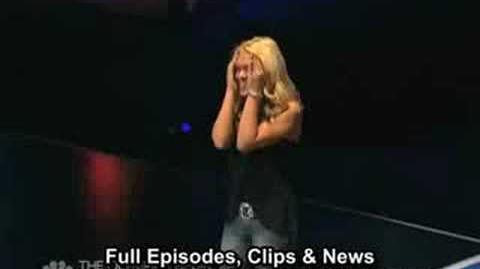 Season 3 Quarterfinals
Bruce Block's Part 3 Quarterfinals performance in Episode 312 consisted of creating the illusion of transforming two actors dressed in separate halves of a horse costume into a live pony as small people moved around him. Piers critcized Bruce for doing the "oldest trick in the book". Sharon left speechless. David felt there was confusion with assistants on stage. Piers Morgan buzzed the act. Bruce did not receive enough votes to be sent to the Semifinals, eliminating him from the competition in Episode 313.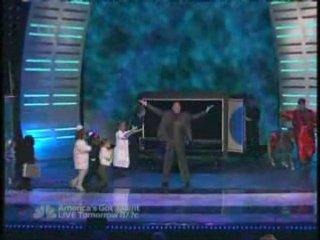 External Links