Captain Dan & The Scurvy Crew was a pirate rap group act from Season 7 of America's Got Talent. It was eliminated in the audition round.
Background
Hailing from the eastern seaboard, Captain Dan & the Scurvy Crew, the world's first rapping pirate troupe, featuring the rap skills of Captain Dan Dolan, Brad "Sea Dawg" Podray, Scott Free, DJ SyKo, ZealouS1, MC Treasure, and Admiralty are no strangers to success on the high seas or by land. Melding the sound of Top 40 Hip Hop with the classical pirates of 1630-1720 may seem a little out of left field at first, but Captain Dan & The Scurvy Crew manage to produce what is today's gold standard in pirate music.
Since launching the video for "Black Beard's Treasure", a single from the group's album -Authentic Pirate Hip-Hop, the clip has received over 300,000 views and has quickly become a favorite for pirate lovers worldwide.
Using a unique slang, attitude, and lyrical style (as well as traditional Hip-Hop beats and melodies), Captain Dan & Crew stake a claim to bring something fresh and vibrant to Rap Music. The Scurvy Crew tackle all staples for rap culture with a slight twist- highlighting the similarities and appreciation rappers and pirates share for the love of bling on their chains, guns, and booty. 1
Audition
Captain Dan & The Scurvy Crew's audition in Episode 709 consisted of four men acting as buccaneers rapping about pirates. Howard Stern, Sharon Osbourne, and Howie Mandel all buzzed the act. All three judges voted "No," eliminating the act from the competition.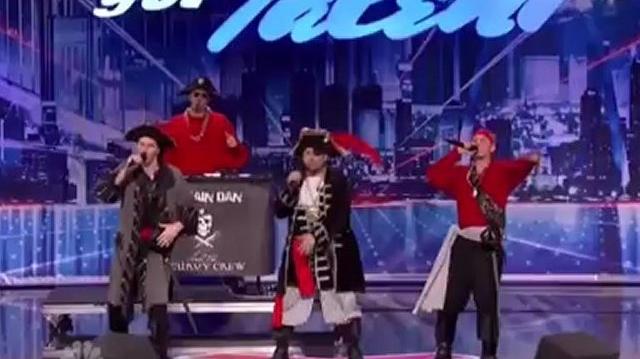 External Links