Captain Explosion

Information
Age (at audition)
65
Sex
Male
Act
Danger Act
Seasons
8
Position Reached
None
Captain Explosion was a danger act from Season 8 of America's Got Talent. He was eliminated in the audition round.
Background
Captain Explosion is a registered trademarkby stunt performer Jim Moreau. Jim Moreau started his thrill show career in June of 1967 as a ramphand with the Joie Chitwood Thrill Show. The following year he was off to the Buddy Wagner's Lucky Mustang Hell Drivers where he started performing stunts in autos and on motorcycles. Since those early days he has worked for every major touring thrill show on the east coast and Canada. In 1972, Jim was off to the newest thrill show from Danville, Illinois called The Deathriders Motorcycle Thrill Show. Johnny Hardin was performing the Human Bomb that year. The next year Danny Reed took over the stunt from scratch as Johnny was not needed for his high salary.
In 1974, Jim started performing the coffin at Speedways thru out the US and Canada. That same year he received his first injury at the old JFK Stadium in Phillie when he had his hand in the wrong place and blew up his knuckle. 1980 came around and Jim went to work for Big John Anderson and his World Series of Thrills. John took Jim aside as he knew he had been doing the Coffin and introduced him to The Russian Death Chair using real dynamite, cardboard and tin foil instead of wood for the rest of the season. After that day he performed the act over 80 times during the season and also came up with the name Captain Explosion as others were calling themselves Mr.TNT, Captain Dynamite, etc.
A few years later, Jim learned how to do another Coffin Act with 4 sticks of real dynamite or even Tovax for the explosive charge from the real Captain Dynamite (Pat Midnite O'Brian). In the 90's, it started hard to get the real stuff because of government regulations and red tape so everyone started to improvise with other stuff, even Coffeemate. Now a safe act has gotten dangerous and unsafe because everything now is unstable and will go off from a spark or static electricity. 1
Audition
Captain Explosion's audition in Episode 806 consisted of blowing up a couple of explosives inside a cardboard box he was in. Although Howie Mandel voted "Yes," Howard Stern, Heidi Klum, and Mel B all voted "No," eliminating Captain Explosion from the competition.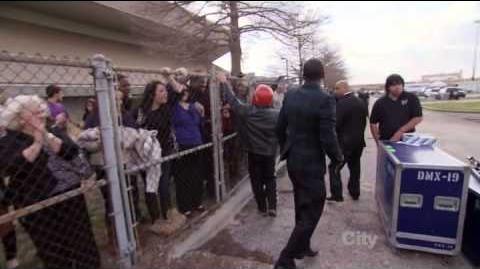 External Links
Community content is available under
CC-BY-SA
unless otherwise noted.