Carlos Aponte

Information
Age (at audition)
24
Sex
Male
Act
Opera Singer
Seasons
5
Position Reached
Vegas Round
Carlos Aponte was an opera singer act from Season 5 of America's Got Talent. He was eliminated in the Vegas round
Background
Carlos Aponte debuted as a solo vocalist at the young age of 16 with the Puerto Rican Symphony Orchestra, interpreting both Puerto Rican and international classical songs.
He obtained an Honorable Mention from the National Foundation for the Advancement of the Arts in 2005. He followed this accomplishment with a performance for the Nobel Peace Prize winner Óscar Arias, in San José, Costa Rica. In 2007 he sang with The Bronx Arts Ensemble Orchestra in New York, directed by Maestro David Gilbert, at the Hostos Performing Arts Center. That same year, he was a guest at the "Gala de Zarzuela" at the Ópera de Costa Rica.
He returned to New York in 2008 for "La Danza en Dos Tiempos," a concert at the Hecksher Theather in El Museo del Barrio, again accompanied by The Bronx Arts Ensemble Orchestra. He followed this performance with a fundraising concert for Casa Herencia Cultural de Puerto Rico, also in New York. 1
Audition
Carlos Aponte's audition in Episode 509 consisted of singing "IL Mare Calmo Della Sera." Piers Morgan, Sharon Osbourne, and Howie Mandel all voted "Yes," sending Carlos to the Vegas Round.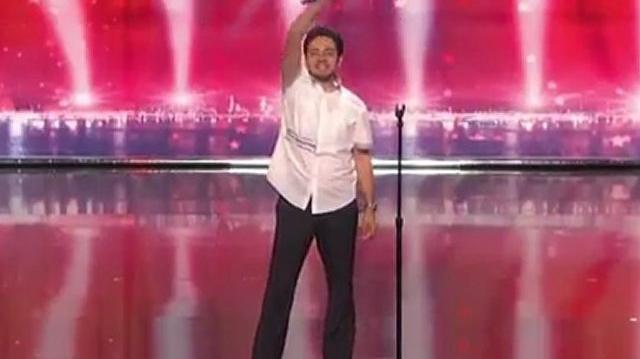 Vegas Round
Carlos Aponte was one of the Audience' Favorites in the Vegas Round. He was sorted into the "Classical Singers" category. His performance in Episode 511 consisted of singing "The Impossible Dream." His audition was not strong enough for the judges to send him to the Quarterfinals, eliminating him from the competition.
After the Show
In 2010, he received a Medal from the UNESCO's Association; he was a special guest at the Cartier event "Barcelona-Paris." In December 2010, Carlos, was a guest artist at the Puerto Rico Symphony Orchestra's Christmas concert series.
He has also performed the National Anthems of United States of America and Puerto Rico in several International Boxing Matches broadcasted by Pay Per View.
At Sanya, China, he delighted an international audience of 1.5 billion viewers during the Miss World Pageant.
Ever since his highly acclaimed performance in America's Got Talent in 2010 - more than 15 million TV viewers - the Puerto Rico's eyes found a new focus.
Carlos, was also busy as guest artist at several important events and receptions. Other attended live performances by Carlos include The Canadian Tenors concert and the Il Volo concert, both at the Puerto Rico Coliseum.
Recently, special guest artist at the Christmas Concert of the Puerto Rican legendary singer Danny Rivera and recognized pianist Adlan Cruz.
External Links