Carly Jo Jackson

Information
Age (at audition)
20
Sex
Female
Act
Singer and Guitarist
Seasons
9
Position Reached
Judgment Week
Carly Jo Jackson was a singer and guitarist act from Season 9 of America's Got Talent. She was eliminated during Judgment Week.
Background
Carly Jo Jackson is an Acoustic/Pop/Rock/Indie artist from Longwood, Florida.
Within a month of receiving a guitar on her 16th birthday, Carly Jo wrote her first song and was performing live in local Orlando area coffee shops several times a week. Her motto has been to embrace every performance opportunity, because you never know who is listening. After performing at a family friend's birthday party she was overheard by the founders of a startup indie music label, Arch Productions, who were looking for a young artist to mentor and record. She signed a one-year contract and produced her first CD, World at my Feet, in 2011.
In 2012, while singing outside a yogurt shop in her then new south Florida home of Boca Raton, her captivating voice caught the attention of Chris Carrabba of Dashboard Confessional. In return for providing vocals on a song Chris was pitching to a female recording artist, he recorded her single Wildflower in his studio. Wildflower is a coming of age song that was featured in the award-winning independent short film "On the Edge" in late 2012. In 2013 she released her official music video for the song and since, Wildflower has been recognized in several songwriting competitions including the 2013 Show Me the Music contest.
Carly Jo is attending Florida Atlantic University in Boca Raton, where she now lives, but has taken 2013-2014 off to focus on advancing her music. She performs several times a week at festivals, clubs and restaurants from South Beach and Miami to her hometown in Orlando and is quickly growing a fan base that, thanks to a large internet presence, spreads across the globe, well beyond her Florida home. 1
Audition
Carly Jo Jackson's audition in Episode 904 consisted of singing Emeli Sandé's "Next to Me" while playing the guitar. Although Mel B voted "No", Howard Stern, Heidi Klum, and Howie Mandel voted "Yes," sending Carly to Judgment Week.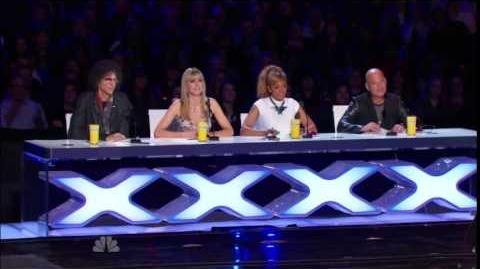 Judgment Week
Carly Jo Jackson was sorted into the "Female Singers" category in Judgment Week. Her performance in Episode 907 consisted of singing her rendition of "Somebody That I Used to Know" while playing the ukulele. Carly's performance was not strong enough for the judges to send her to the Quarterfinals, eliminating her from the competition in Episode 908.
External Links
Season 9 Judgment Week

Immediately Moved On
Performed, Day 1
Performed, Day 2
Moved On (Untelevised)
Community content is available under
CC-BY-SA
unless otherwise noted.