Chuck from the Bronx was an extreme eater act from Season 8 of America's Got Talent. He was eliminated in the audition round.
Background
Chuck from the Bronx owns a YouTube Channel on which he performs all kinds of dares, most involving food, by YouTube users. He has appeared on the Tonight Show with Jay Leno and Right This Minute.
Audition
Chuck from the Bronx's audition in Episode 801 consisted of eating three raw eggs, squirting lime juice into his eyes after drinking tequila, and eating the hottest pepper in the world while sitting in a bathtub filled with ice.  Howard Stern, Heidi Klum, and Mel B buzzed the act.
After the audition, Howie Mandel dared Howard to eat one of the hottest peppers in the world. Howie proceeded to do so, requiring vast quantities of milk later. Howard refused to follow suit despite promising Howie. Although Howie voted "Yes," Howard, Heidi, and Mel B all voted "No," eliminating Chuck from the competition.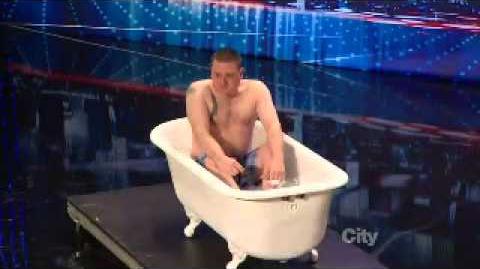 External Links