Cinda Ramseur

Information
Sex
Female
Act
Singer
Seasons
2
Position Reached
Vegas Round
Cinda Ramseur was a singer act from Season 2 of America's Got Talent. She was eliminated in the Vegas Round.
Background
Los Angeles native Cinda RamSeur is launching her solo career in the United States where she now resides. Cinda has toured with many of the brightest stars of Pop and R&B. She has performed for and or with; Stevie Wonder, Diana Ross, Natalie Cole, Donna Summer, Herbie Hancock, Whitney Houston, Phillip Bailey, Gladys Knight and the Pips, Julio Iglesias, and Chaka Khan, on tours and in festivals including the Malta Jazz Festival, Auberge du Hameau, Overnight Success Tour and the Monte Carlo Sporting Club. Cinda's sound has evolved into one that is rooted in Jazz, R&B and Pop, heavily influenced by her time spent in Europe.
Cinda recorded "I Won't Stay" for the movie "Kick Boxer" starring Jean-Claude Van Damme. She has recorded "I'd Rather Be With You" with jazz saxophonist Ron Brown's album From My Eyes to Yours. Cinda has written and produced the songs "Stellar Funk," "Power for no Solution," and "All Up and Dance" which was number one for four weeks on the independent Italian charts. In 2002 Cinda won first place in the national talent contest The Best New Talent 2002 held in Los Angeles where over more than a thousand singers competed for best female singer. In 2002 she also performed at The LA Sparks championship game and in 2003 performed at the Los Angeles Lakers playoff game at The Staples Center. Cinda recently appeared on Broadway in Disney's The Lion King, and in Cirque du Soleil's Kooza. 1
Audition
Cinda Ramseur's audition in Episode 202 consisted of singing "One Night Only". Piers Morgan, Sharon Osbourne, and David Hasselhoff all voted "Yes", sending her to the Vegas Round.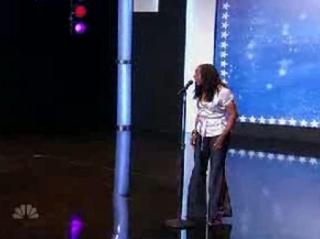 Vegas Round
Cinda Ramseur was sorted into the "Music" category during the Vegas Round. Her performance in Episode 205 consisted of singing "I Just Called to Say I Love You." Her audition was not strong enough for the judges to include her in the Top 35 shortlist, eliminating her from the competition.
External Links