Clownvis was a singer from Season 5 of America's Got Talent. He was eliminated in the audition round.
Background
The L.A. Weekly calls Clownvis Presley "Better than the real Elvis". A bold statement indeed, but when it comes to quick wit, unique songs, and genuine showmanship, its safe to say Clownvis has earned the title, "The King of Clowns". From the sideshow at Coney Island to the hottest comedy events in Los Angeles and everything in between, Clownvis is constantly bringing his unique blend of comedy, song, and magic to stages across America.
Clownvis is currently a staple on the booming Los Angeles alt comedy scene. His monthly show held at the famous Hollywood Improv Comedy Club sells out regularly and has recently drawn the attention of such high profile media outlets as the L.A. Weekly and TMZ.
Performing alongside big acts like Little Richard, Neil Hamburger, Dresden Dolls, and Jewel have made Clownvis' legendary stage show more in demand than ever. The King of Clowns shines brightest when he's in the spotlight, and in addition to scheduling live shows in Los Angeles and abroad, he is currently working on a live DVD, a series of comedy shorts, and his own internet podcast.1
Clownvis was approached to audition for America's Got Talent by talent scouts in St. Louis. Although initially reluctant, he was ultimately convinced to audition by his mother. His "producer's audition" consisted of singing "Viva Las Vegas," and, although the producers agreed to allow him to participate in a televised audtion, they told him he had to sing a different song because of royalty reasons, so he did. 2
Clownvis' real name is Mike Leahy [1]
Audition
Clownvis's audition in Episode 510 consisted of dressing up as a clown version of Elvis Presley, pulling a long bundle of tied-together cloth of his mouth, and singing "Old MacDonald Had a Farm." Piers Morgan, Sharon Osbourne, and Howie Mandel all buzzed the act. Clownvis proceeded to insult the judges by joking about Ozzy Osbourne's drug use and Howie's not being funny anymore. Sharon and Howie both reacted with "censored" responses. All three judges voted "No," eliminating Clownvis from the competition.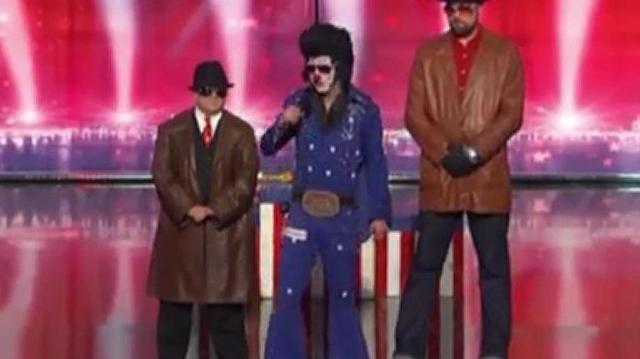 Audition All Stars
Clownvis performed as one of ten Audition All Stars in the Season 5 America's Got Talent finale. His role in Episode 532 consisted of singing "I Gotta Feeling" with the others.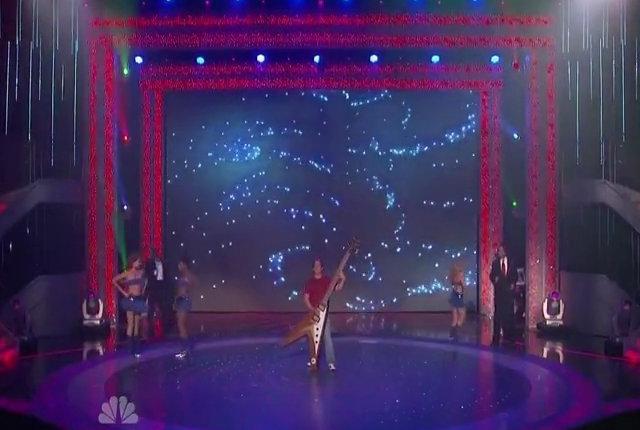 External Links