Collins Key was a magician act from Season 8 of America's Got Talent. He finished the competition in 5th place.
Background
Collins Key's choice to become an entertainer started when he was young. Collins always loved to perform. A favorite childhood story is Collins' first flight at six months, which included him drawing a crowd at the airport and being passed to the row behind him because of his attention stealing blue eyes, smile and laughter.
As a kid, Collins took any chance possible to perform. Collins started in theater at the age of four playing a lion. He fell in love with acting. His favorite audition was the one where he stepped out of the car, met the director, and was hired on the spot. Out of his first five auditions he landed three roles. Collins definitely knew he was onto something when he discovered magic at age twelve. He realized that wherever he was, he could walk up to strangers and ask if they wanted to see a magic trick and perform. In the past when he would perform handstands, Karate, or whatever he thought would be entertaining, it never went over as well as Magic.
After he had been practicing magic for nine months, his mom heard about the Magic Castle's Junior program. Three days after hearing about the program, he tried out and was accepted. Since that time, he has been performing at private events, the Original Renaissance Pleasure Faire,  and the Magic Castle, in addition to acting. Collins has a brother named Devan, and Collins often does Ustreams with his fans. 1
Audition
Collins Key's audition in Episode 802 consisted of creating the close-up illusion of teleporting a dollar into a popcorn bag. Key first borrowed a dollar bill from Howie Mandel and later had its serial code number written down. He then folded Howie's dollar and seemingly lit it on fire. A sealed popcorn bag that Mel B was holding above her head was then opened up with the dollar bill with the same serial number inside the bag. Howard Stern, Heidi Klum, Mel B, and Howie all voted "Yes," sending Collins Key to the Vegas Round.
Vegas Round
Collins Key was sorted into the "Magicians" category in the Vegas Round. His performance in Episode 809 consisted of demonstrating a trick that involved him sealing an envelope and having Heidi Klum sit on it, Howie Mandel bookmark a section of a copy of his book, and Mel B and Howard Stern identifying the page number and first word. Collins then proceeded to "visualize" himself tearing out the page, writing the first word on the back of it, and inserting it into the envelope. The envelope was then revealed to have the page inside it, exactly as described, and fit perfectly in place with the portion of the book that was missing. Collins' audition was strong enough for the judges to send him to the Quarterfinals along with Illusionist Leon Etienne & Romy Low in the same episode.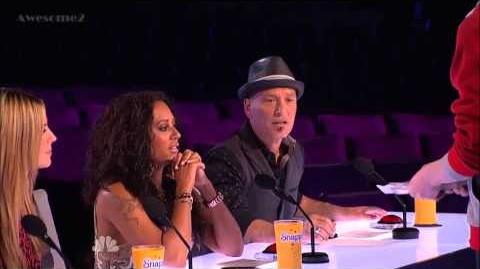 Quarterfinals
Collins Key's Week 1 Quarterfinals performance in Episode 810 consisted of appearing to correctly predict tweets made by the judges, apparently having written, after having witnessed a "premonition" days prior, what they tweeted (posted on Twitter) on a sheet of paper inside a box suspended from the ceiling before the start of his performance. He received enough votes to be sent to the Semifinals in Episode 811 along with the KriStef Brothers, instead of TellAvision.
Semifinals
Collins Key's Week 1 Semifinals performance in Episode 820 consisted of each judge picking up one ball  with words describing a girl Collins would go on a date with from a bag, each audience member opening a sealed envelope with cards in them, and one audience member pulling out a marked red card meaning she would join Collins on a date. The judges then read the messages on their balls, the four of which all described the audience member. Collins received enough votes to be sent to the Finals in Episode 821 along with Taylor Williamson, instead of Angela Hoover.
Top 12
Collins Key's Top 12 Finals performance in Episode 824 consisted of creating the illusion of correctly guessing which of three paper bags contained Nick Cannon's $250,000 watch based on the choices of the judges. Collins smashed two cheap watches in the two other bags with a mallet. He also correctly guessed the time Howie Mandel set his watch to and changed the timing on Nick's watch. Collins received enough votes to be sent to the Final 6 in Episode 825 instead of Catapult Entertainment.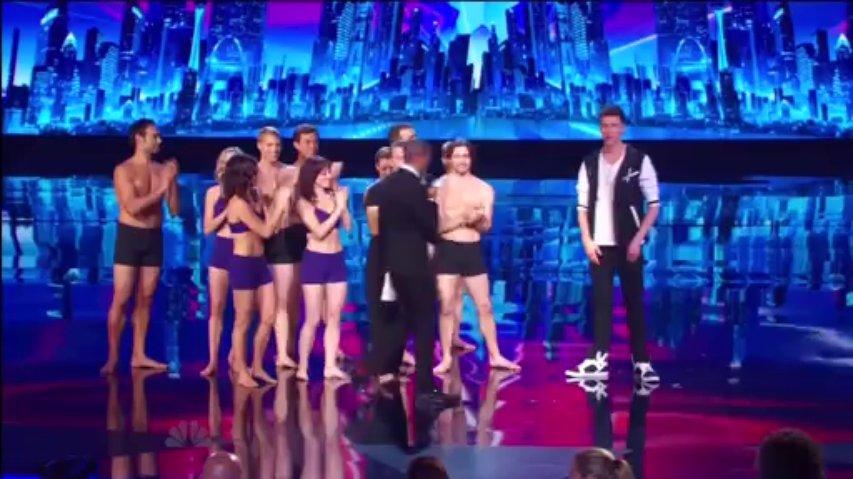 Final 6
Collins Key's Top 6 Finals recap performance in Episode 826 consisted of performing another close-up trick, one in which Heidi Klum and Mel B each signed a random playing card, Collins pressing the cards together, each of the two biting onto opposite sides of the card, and then releasing the card to reveal the cards now fused together. His second performance of the night consisted of correctly predicting the clothing worn and Twitter hashtags held by three random audience members a day prior to his performance on YouTube.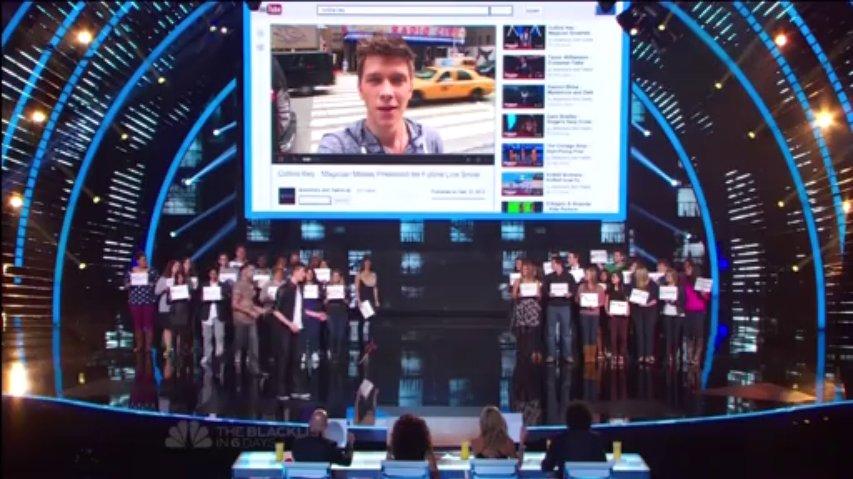 Finale
For the finale in Episode 827, Collins Key performed a close-up magic trick in front of Kathie Lee & Hoda. Collins was revealed to have finished in fifth place in the competition that same night, over Cami Bradley, but under Kenichi Ebina, Taylor Williamson, Jimmy Rose, and Forte.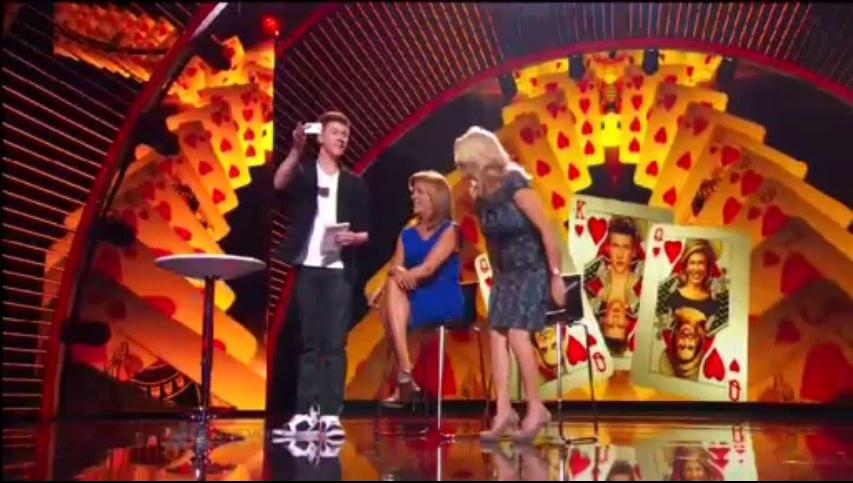 Trivia
Collins Key is the first magic act to make the top 5 he was followed by Mat Franco, Oz Pearlman, Jon Dorenbos, The Clairvoyants, Shin Lim, Léa Kyle and Dustin Tavella.
After AGT, Collins began running a YouTube channel with his younger brother Devan that focused on DIYs and challenges. He currently has the most subscribers out of any competitor on America's Got Talent, with over 23.6 million subscribers.
External Links