Ganbaatar Contortion Sisters was a contortion duo from Season 7 of America's Got Talent. It was disqualified from the competition after the Audition round because the pair was only in the country on working visas. The duo returned in Season 9 as, simply, Contortion Sisters, two years later. They were eliminated again during Judgment Week.
Background
The Ganbaatar Contortion Sisters, Erdenesuvd and Buyankhishig, were both born in Ulaanbaatar, Mongolia. When Erdenesuvd was a child, her father had the mindset for her to be a concert pianist. From the age of six years to ten years old she would practice a little piano, a little gymnastics, and lots of contortion.
She then attended Mongolian State Circus for training under one of the greatest Mongolian contortionists and teachers, MYGJ.D. Majigsuren, to perfect the art of contortion. By the time Erdenesuvd was twelve years of age, she was performing all over Mongolia, Japan, Russia, Portugal, Germany, and Italy, - what was once play had now become her work. Less than two years later she had become a professional contortionist.
Always there, observing her moves and always following her around when she would practice her contortion, was Erdenesuvd's younger sister Buyankhishig. Buyankhishig never knew that she had a interest in the art of contortion until Erdenesuvd walked into the house one day and saw her doing a backbend with a chest stand at the age of six. Her skill and sharp perception was very different and special, from that moment whenever they practiced the art together, it was as sister contortionists.
Their destiny took them traveling around the world to share their talent. During the journey, the sisters expanded their talent and began designing their own costumes and make up. They also started creating not only contortion acts, but also other new acts as well. They discovered their capability to do aerial acts like aerial lira, aerial duo cube, aerial trio and four cube. This amazing experience inspired the sisters and gave them the mindset to create lots of different new contorting poses and moves to bring to their new generation of contortion art to share with the world. 1
Audition
The Ganbaatar Contortion Sisters' audition in Episode 707 consisted of performing contortionist acrobatic tricks such as bending their legs backwards and then touching the ground, as well as standing on top of each other by their hands. Howard Stern, Sharon Osbourne, Howie Mandel all voted "Yes," sending the act to the Vegas Round.
Vegas Round
The Ganbaatar Contortion Sisters were not present during the Vegas Round. The pair's performance was never shown and they did not advance to the Quarterfinals. A comment they made on their official YouTube account explains what exactly happened:
"America's Got Talent not allowed working visa anymore and they only allow green-card holder or citizens starting this year :( So We cannot be part of the show anymore and we wish we went to Vegas and continue the next arounds but we had a really good time In Austin TX and get to meet lot of talented people :) we wish all the luck to the others who went to Vegas :) We will be watching and voting :) Thanks Love you all <3"
Season 9 Audition
Ganbaatar Contortion Sisters returned in Season 9 as Contortion Sisters. Its second audition in Episode 905 consisted of performing contortion feats involving the two balancing upon each other. Howard Stern, Heidi Klum, Mel B, and Howie Mandel all voted "Yes," sending the duo to the Bootcamp Round.
Judgment Week
Contortion Sisters was sorted into the "Acrobats" category in Judgment Week. The group's performance in Episode 908 was not televised (they were sighted watching their competition), though their performance was briefly montaged in the official Judgement Week promo, consisting of one of the sister's balancing herself up in the air by balancing her arms on the beginning of the other sister's torso as she was bent backwards and held her arms and legs separately on two spaced out wooden block chairs. The Contortion Sisters' performance was not strong enough for the judges to send them to the Quarterfinals, eliminating them from the competition along with the Xpogo Stunt Team.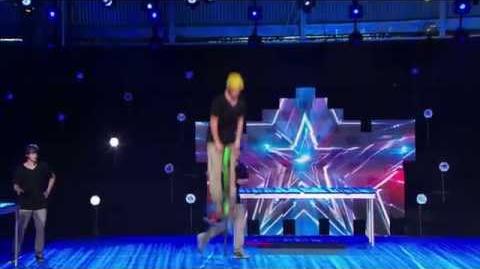 https://www.youtube.com/watch?v=-XEe5DvAF68
External Links
Season 7 Vegas Round

Uncategorized
Judges' Favorites
Standby Acts
Withdrew
Disqualified
Season 9 Judgment Week

Immediately Moved On
Performed, Day 1
Performed, Day 2
Moved On (Untelevised)