Dallas Desperados Dancers

Information
Age (at audition)
18-26
Sex
Female
Act
Cheerleader Dance Group
Seasons
3
Position Reached
Quarterfinalist
The Dallas Desperados Dancers were a cheerleader dance group act from Season 3 of America's Got Talent. They were eliminated in the Quarterfinals.
Background
The Dallas Cowboys Football Club did it once in 1972. They introduced the country to a world-class professional cheerleading squad known as the Dallas Cowboys Cheerleaders. Then, thirty years later in 2002, they did it again with their brand new arena football team and the Dallas Desperados Dancers.
Pamela Jagger Purcel, an award winning choreographer and former Dallas Cowboys Cheerleader who cheered from 1997-2000, was selected to head up the Dancers by Desperados' C.O.O. Shy Anderson; Desperados G.M. Jerry Jones Jr.; and by Charlotte Anderson VP of the Dallas Cowboys/President of the Dallas Cowboys Cheerleaders. Pamela was hired to create, market and manage all functions of the Dallas Desperados Dancers. An honors graduate with a triple component Bachelor's Degree, Pamela had gained valuable sports marketing experience while working with a successful sports marketing agency in Dallas. A former classical ballerina, trained at the famed School of American Ballet in New York City, Pamela's knowledge of marketing, PR, sponsorship sales, dance, choreography, media relations and management would all come into play with the invention of the brand new Dallas Desperados Dancers.
After 10 days of auditions , 21 dancers aged 19-30 years old, were selected for their dance ability, crowd appeal and outgoing personalities to become the first team of Dallas Desperados Dancers.
The Dallas Desperados Dancers entertain at all home games with explosive feature routines and serve as ambassadors to the community appearing at a variety of charity, corporate and civic events throughout Texas. The Dancers average between 15-20 appearances per month. Within the first couple months of their creation, the dancers began receiving international fan mail, requests for interviews, personal appearances, performances, and television & radio appearances. The Dancers currently receive between 25,000-45,000 visitors to their Web site per month.
Always eager to use their new-found celebrity status to help out in the community, the Dancers have lent their time and talents to benefit many worthwhile organizations including the Children's Medical Center of Dallas; The Rise School; The Stars Foundation; The Dream Fund; Ronald McDonald House; The Crohn's and Colitis Foundation; the Salvation Army; MDA; Pet Rescue; the Scottish Rite Hospital; and the Special Olympics. 1
Audition
Dallas Desperados Dancers's audition in Episode 305 consisted of dancing to "Hey Baby". Piers Morgan, Sharon Osbourne, and David Hasselhoff all voted "Yes", sending the group to the Vegas Round.
Vegas Round
Dallas Desperados Dancers was one of the Variety Acts in the Vegas Round. It was sorted into the "Dance" category. The group's performance in Episode 308 was not fully televised, but it consisted of dancing as a group. Dallas Desperados Dancers' audition was strong enough for the judges to include it in the Top 60 shortlist and to later send it to the Top 40 Quarterfinals in Episode 309.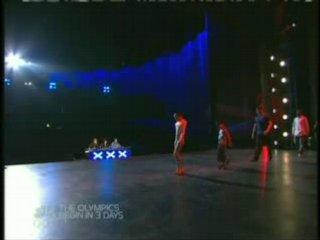 Quarterfinals
Dallas Desperados Dancers' Part 4 Quarterfinals performance in Episode 313 consisted of dancing as a group to Missy Elliott's "Lose Control." Piers Morgan and Sharon Osbourne buzzed the act. The group did not receive enough votes to be sent to the Semifinals, eliminating it from the competition in Episode 314 instead of Donald Braswell II.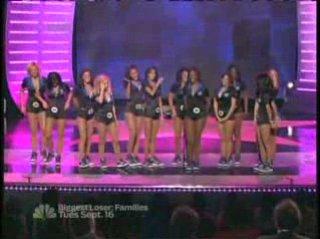 External Links