Darik Santos

Information
Age (at audition)
26
Sex
Male
Act
Stand-up Comedian
Seasons
9
Position Reached
Quarterfinalist
Darik Santos was a stand-up comedian act from Season 9 of America's Got Talent. He was eliminated in the Quarterfinals.
Background
Darik Santos, a native of Providence, lives in Windsor Locks, Connecticut with his girlfriend's family. Until recently, he has been doing stand-up comedy on the side from his job, until he was laid off from that job. "I was a security guard. I patrolled an empty parking lot. They gave me a flashlight and it didn't even work," he said.
Now he's doing just stand-up. He's performed at Strange Brew in Norwich, Brew Ha Ha in Hartford, Comics at Foxwoods, the Joker's Wild in New Haven and other area bars and nightclubs. Santos got his start in stand-up doing goofy things on stage. "I would do karaoke or sleep on stage. ... I would go up and take my shoe off and then take my sock off and then blow my nose in my sock and then put the sock back on," he said. "They thought I was just this crazy person."
When he moved into more verbal stand-up, he favored puns. "Fozzy Bear [from 'The Muppet Show'] was the first comedian I ever saw and is still my favorite comedian ever," he said. "I wanted to write jokes like that ... really short, quick one liners that keep people interested." He calls himself a "commodian," because he tells a lot of toilet jokes. "I'm feeling very flushed right now," he said.
"America's Got Talent" producers didn't seek Darik out, he sought them out. "My mother called me and said 'they're doing auditions in Providence, you should go.' So I called out of work and went. I waited in line for six hours," he said. "I was delirious. I had the flu. I went anyway. I don't know what they saw in me but somehow they liked me." 1
Audition
Darik Santos's audition in Episode 906 consisted of joking about topics such as his parents dressing like each other, his wearing diapers, and his going bananas, all while integrating puns. Although Heidi Klum voted "No," Howard Stern, Mel B, and Howie Mandel voted "Yes," sending Darik to Judgment Week.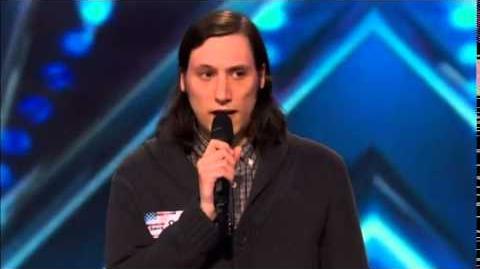 Judgment Week
Darik Santos was sorted into the "Comedians" category in Judgment Week. His performance in Episode 907 consisted of joking about about topics such as his parents not believing his comedy career exists, his feeling terrible about Chinese food, and his dad telling him about the birds and the bees. Darik's performance was strong enough for the judges to send him to the Quarterfinals along with Wendy Liebman in Episode 908.
Quarterfinals
Darik Santos's Week 2 Quarterfinals performance in Episode 911 consisted of joking about topics such as  being his extra nervousness in front of Howard Stern, moving to New York to fulfill his dreams despite it being a city that never sleeps, and whether vegetarian detectives go on stakeouts. Darik did not receive enough votes to be sent to the Semifinals, eliminating him from the competition in Episode 912 along with Hart Dance Team, instead of Andrey Moraru.
External Links
Season 9 Judgment Week

Immediately Moved On
Performed, Day 1
Performed, Day 2
Moved On (Untelevised)
Season 9 Quarterfinals

3 • 4 • 5 • 6 • 7 • 8 • 9 • 10 • 11 • 12 • 13 • 14 • 15 • 16

Week 1
Week 2
Week 3
Week 4
Wild Card