Dave Shirley

Information
Sex
Male
Act
Comedian
Seasons
8
Position Reached
Quarterfinalist
Dave Shirley was a comedian in Season 8 of America's Got Talent. He was eliminated in the Quarterfinals.
Background
Dave Shirley began his illustrious performing career on the streets of Colorado juggling fire and swallowing razor blades, one dollar at a time. It was there that he began a lifelong pursuit of skills that had very little purpose in life. Talents such as eating fire, doing magic tricks, and balancing objects brought him lots of joy—but practically no future. Naturally, he then experimented with other types of performing such as improvisation, traditional stage theater and sketch comedy, pursuits with an equally fun but grim future.
After many years of honing his acting skills, Dave created Rattlebrain Theater Company in Denver, Colorado. There, he succeeded as the head writer and Artistic Director for Rattlebrain's critically acclaimed original comedies.
Dave now focuses his energy on a brand-new one-man show that he describes as "pure fiction," although anyone who knows him well can recognize the sprinkling of truth throughout. The good news is, he has finally found a purpose for a lifetime's-worth of useless talents—by putting them into a single show with the purpose of celebrating failure while making people laugh. 1
Audition
Dave Shirley's audition in Episode 801 consisted of performing a humorous skit by projecting a pre-recorded video of Dave dressed as Howard Stern dancing with his wife, while in reality, Dave was dancing with a balloon shaped like a woman. Howard Stern, Heidi Klum, Mel B, and Howie Mandel all voted "Yes," sending Dave to the Vegas Round.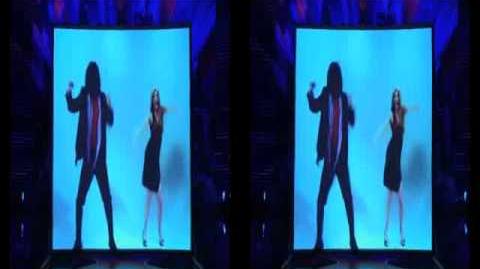 Vegas Round
Dave Shirley was one of thirty acts to advance straight to the Quarterfinals in New York without performing in Las Vegas in Episode 808.
Quarterfinals
Dave Shirley's Week 2 Quarterfinals performance in Episode 812 consisted of performing a skit with screens projecting videos on waist-level monitors to create the impression of Dave dancing as a tap dancer, ballerina, and showgirl. The act culminated with Dave appearing to dance with the four judges. Dave did not receive enough votes to be sent to the Semifinals in Episode 813, eliminating him from the competition along with Brad Byers and Kid the Wiz.
Trivia
Dave Shirley was the first comedian of Season 8 whose audition was televised.
External Links
Season 8 Vegas Round

Immediate Decision
Performed Day 1
Performed Day 2
Community content is available under
CC-BY-SA
unless otherwise noted.