David and Leeman

Information
Age (at audition)
27 & 29
Sex
Male
Act
Magicians
Seasons
9
Position Reached
Finalist
David and Leeman was a magician duo act from Season 9 of America's Got Talent. It was eliminated in the Finals.
Background
David and Leeman are award winning comedy magicians from Los Angeles. They have been called "Miraculous" by the L.A. Weekly, "Incredible" by the L.A. Examiner, and a "Laugh Riot" by the Tolucan Times. 
In 2012, David and Leeman made their Hollywood Fringe Festival debut with their award winning show "Filthy Liars: A Funny Magic Show" - which they wrote, produced, and directed themselves. They were recognized as a "Best of the Fringe Show," nominated for "Best Cabaret Show," and were in the Top-10 highest grossing revenue shows in the entire festival, which had over 200 productions. Later in the year, they took their show to the Los Angeles Comedy Festival and won the "Best Live Show" award, out of the entire festival.
In 2013, David and Leeman created their second Hollywood Fringe Festival show called "David and Leeman: How to Convincingly Fake Honesty," directed by Jon Armstrong. They were once again recognized as a "Best of Fringe Show," nominated for "Best Cabaret Show," and were the second highest grossing revenue show of the entire festival, routinely selling out their venues. David and Leeman debuted on national television on the fourth season of "Masters of Illusion" and are writing their third show for their 2014 international Fringe tour. 1
Audition
David & Leeman's audition in Episode 902 consisted of squeezing Howie Mandel's forehead and seeming to temporarily take away his ability to read words off of cards they had. They called the act "pressure phrenology." Howard Stern, Heidi Klum, Mel B, and Howie all voted "Yes," sending the duo to Judgment Week.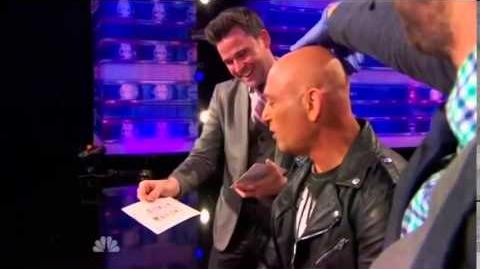 Judgement Week
David & Leeman were selected in Episode 907 as one of eight acts to advance straight to the Quarterfinals without performing in Judgment Week.
Quarterfinals
David and Leeman's Week 1 Quarterfinals performance in Episode 909 consisted of taking a "selfie" photo with the judges, posting a message on Twitter, and having the judges rip pages from other judges' self-written books. The duo then asked Howard Stern for a random number, based on which they chose a random ripped piece, had Howie Mandel read the longest word on the ripped page, and revealing that they had written the word (Camera-Ready) on the message they had posted online. Howard, Mel B, and Howie gave the duo standing ovations. David and Leeman received enough votes to be sent to the Semifinals in Episode 910.
Semifinals
David and Leeman's Week 1 Semifinals performance in Episode 917 consisted of pressing the buzzer of every judge except Heidi Klum (a reference to the duo's buzzing accidentally in its last performance). The duo then placed a piece of a wood with an X imprinted on it and a needle protruding from it. Five paper bags were placed on the stage and the wood was in one bag. Each judge except Heidi selected one bag for the duo to smash, and before doing so, the duos would comedically act out hesitation. Nick Cannon joined the stage and held his hands over both bags. David and Leeman then asked Heidi to keep or switch Nick's choice. The duo then pressed the final bag and revealed the spike to be in the only remaining bag. The duo finished in fifth, sixth, or seventh place in America's Vote. In the Snapple Save, it received fewer online votes than Mara Justine. In the Judges' Choice, Howard Stern, Heidi Klum, and Howie Mandel all voted for it, sending David and Leeman to the Top 12 Finals in Episode 918 instead of Aerial Animation.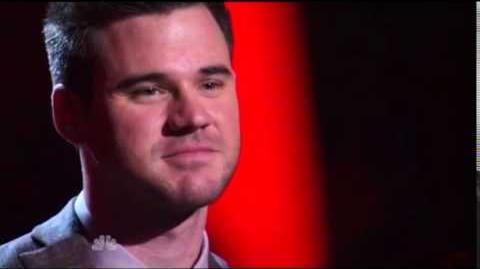 Top 12
David and Leeman's Top 12 Finals performance in Episode 921 consisted of presenting a large ultimate scratch-off ticket on the stage. Each judge picked one of five balloons and a random number between 1 and 99. David and Leeman wrote the numbers on the large card. In the final balloon was a folded lottery ticket which, when scratched with a quarter, revealed the same number as on the large card except the last number, which read 85 instead of 86, as on the card. On the back of the small lottery card was a message saying an incorrect lottery card would force David and Leeman to give the judges their jackets. On their shirts under their jackets was a message predicting correctly that Howard Stern would be "off by one." David and Leeman did not receive enough votes to be included in the Final 6, eliminating it from the competition in Episode 922 along with Mike Super, instead of Mat Franco.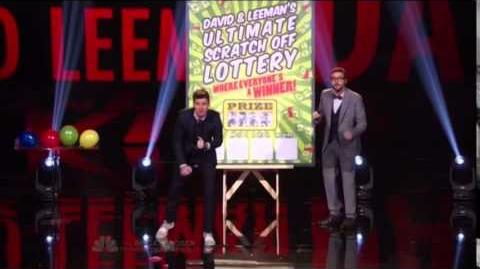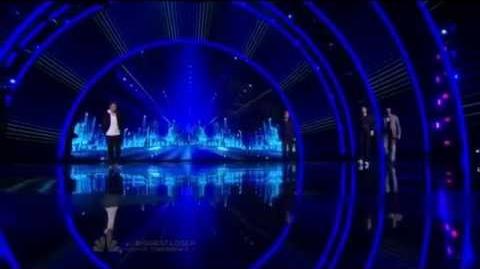 After the Show
David and Leeman appeared on Season 3 of Penn & Teller: Fool Us, but did not fool the pair.
Death
Leeman Parker took his own life on June 5th, 2018. He was 33. [1] [2]
External Links
Season 9 Judgment Week

Immediately Moved On
Performed, Day 1
Performed, Day 2
Moved On (Untelevised)
Season 9 Quarterfinals

3 • 4 • 5 • 6 • 7 • 8 • 9 • 10 • 11 • 12 • 13 • 14 • 15 • 16

Week 1
Week 2
Week 3
Week 4
Wild Card