Dom the Bom's Triple Threat

Information
Age (at audition)
8
Sex
Mixed
Act
Card Thrower
Seasons
9
Position Reached
Quarterfinalist
Not to be confused with Season 10's Triple Threat.
Dom the Bom's Triple Threat was a card thrower act from Season 9 of America's Got Talent. It was eliminated in the Quarterfinals.
Background
Dominic is the front man for Dom the Bom's Triple Threat. Dom was born in Conneaut, OH. He is a triplet along with his brother Phoenix and sister Lyric. He loves watching and playing football. His favorite football team is the Cleveland Browns. Dom has been performing magic and throwing cards for two years and practices by throwing up to 500 cards daily. He loves performing in Las Vegas and impresses the tourists by throwing the cards across six lanes of traffic and on top of the casinos. His goal is to continue to perfect his card and magic show and would love to perform with his favorite entertainer, David Copperfield.
Phoenix, age 8, was born in Conneaut, OH. He is a triplet along with his brother Dominic and sister Lyric. He is a second grade student and currently lives in Las Vegas, NV. Born premature at just under four pounds, he has always been a little fighter. Just like the mythical legend, Phoenix is the fireball of the group and has a dynamic personality and can often be seen sporting his favorite weight lifting gloves. Phoenix loves school and especially enjoys studying his two preferred subjects, math and science. He also likes identifying and collecting gemstones. For fun, he likes to perform parkour stunts and play video games, including his favorite, Minecraft.
Lyric, was born in Conneaut, OH. Lyric currently lives in Las Vegas, NV. As her name suggests, Lyric loves to sing. She is enjoys helping others. She love dogs, especially puppies, and her favorite kinds are pugs, bulldogs, and Labrador retrievers. Lyric is fond of school and is very close with her teachers. She was recently named student of the month at her school. For fun, Lyric likes to hang out in the back yard swimming in her pool and jumping on the trampoline. 1
Audition
Dom the Bom's Triple Threat's audition in Episode 902 consisted of throwing playing cards from a few feet away toward objects such as celery and a balloon to break those objects. Dominic also threw playing cards toward the upper balcony of the auditorium.  Howard Stern, Heidi Klum, Mel B, and Howie Mandel all voted "Yes," sending the trio to Judgment Week.
Judgment Week
Dom the Bom's Triple Threat was selected in Episode 907 as one of eight acts to advance straight to the Quarterfinals without performing in Judgment Week.
Quarterfinals
Dom the Bom's Triple Threat's Week 4 Quarterfinals performance in Episode 915 consisted of throwing cards at targets on the judging table, celery, cereal, heads of lettuce, cucumbers, water bottles, watermelon, and into the balcony of the audience, with the cards either sticking in those objects or slicing them. The act featured a supermarket theme with its staging and occurred to Blondie's "One Way or Another." The act did not receive enough votes to be sent to the Semifinals, eliminating it from the competition in Episode 916 along with Extreme, instead of Emil and Dariel.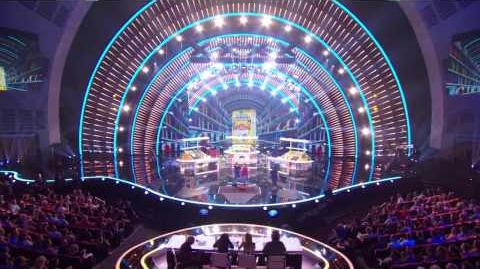 Trivia
External Links
Season 9 Quarterfinals

3 • 4 • 5 • 6 • 7 • 8 • 9 • 10 • 11 • 12 • 13 • 14 • 15 • 16

Week 1
Week 2
Week 3
Week 4
Wild Card