Dragon House "The Agents"

Information
Age (at audition)
23-25
Sex
Male
Act
Dance Trio
Seasons
9
Position Reached
Quarterfinalist
Dragon House "The Agents" was a dance trio act from Season 9 of America's Got Talent. It was eliminated in the Quarterfinals.
Background
Dragon House Crew members Boris "Top Knoch" Penton, Drew "Dizzy" Graham, and Andre "Androiid" Rucker formed Dragon House "The Agents" creating something new and fresh in the dance world. Boris and Andre auditioned for SYTYCD raising the bar for Season 9. The two were also featured on the SYTYCD Finale Show with Kenneth "Xclusive" Paryo, and Bryan "Chibi" Gaynor of Dragon House. They later formed Dragon House "The Agents" adding Dizzy, creating something new and fresh in the dance world. The twist on popping animation consists of illusions, strong animation, bone breaking, popping, and storytelling in which they create unusual images while dancing that play with the audience's minds. 1
The trio's members live with each other.
Audition
Dragon House's audition in Episode 906 consisted of dancing in synchronicity to techno music. Howard Stern, Heidi Klum, Mel B, and Howie Mandel all voted "Yes," sending the group to Judgment Week.
Judgment Week
Dragon House "The Agents" was sorted into the "Dance Acts" category in Judgment Week. Its performance in Episode 907 consisted of more animation dancing and popping to hip-hop music. The members stood behind each other to create the impression of one member moving with multiple appendages. The Agents' performance was strong enough for the judges to send them to the Quarterfinals in Episode 908.
Quarterfinals
Dragon House "The Agents"' Week 3 Quarterfinals performance in Episode 913 consisted of a futuristic animation dance routine in white suits and with back-up dancers and laser effects to techno music. The act did not receive enough votes to be sent to the Semifinals, eliminating them from the competition in Episode 914 along with Kieran & Finian Makepeace, instead of Blue Journey.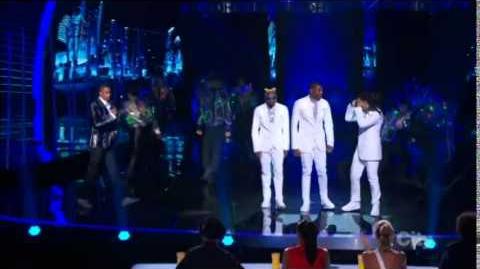 After the Show
Dragon House competed on Season 2 of World of Dance, represented by two male and one female members. They were eliminated in The Duels.
External Links
Season 9 Judgment Week

Immediately Moved On
Performed, Day 1
Performed, Day 2
Moved On (Untelevised)
Season 9 Quarterfinals

3 • 4 • 5 • 6 • 7 • 8 • 9 • 10 • 11 • 12 • 13 • 14 • 15 • 16

Week 1
Week 2
Week 3
Week 4
Wild Card