Duo Resonance

Information
Age (at audition)
27
Sex
Mixed
Act
Balancing Acrobats
Seasons
8
Position Reached
Semifinalist
Duo Resonance was a balancing acrobat duo act from Season 8 of America's Got Talent. The members were eliminated in the Quarterfinals, but returned to the Semifinals as Heidi Klum's Wild Card pick. They were elimianted again in the Semifinals.
Background
Duo Resonance was created as an expression of the beauty in Rhythmic gymnastics and contortion, and the precision and strength of Sports Acrobatics and equilibre. Duo Resonance has performed their acts with Cirque du Soleil, BOR Productions, MSC Cruise Lines, corporate and Gala Events.
Nina Chubrikova has a background in Rhythmic Gymnastics, competing for the United States in World Championships and international competition. Nina has performed in the award winning show "Riptide" in Sea World, San Diego, for corporate and Gala events.
Yury Kuznetsov was a World Champion and international level athlete in Russia for Sports Acrobatics. He has since performed in the Russian Circus, gala events, was a flyer for the amazing teeterboard act in Cirque du Soleil's show "Kooza." 1
Audition
Duo Resonance's audition in Episode 802 consisted of performing acrobatic balancing feats such as Yury supporting on his back Nina standing up on one foot while just pushing his two arms toward the ground. Howard Stern, Mel B, and at least one other judge voted "Yes," sending the duo to the Vegas Round.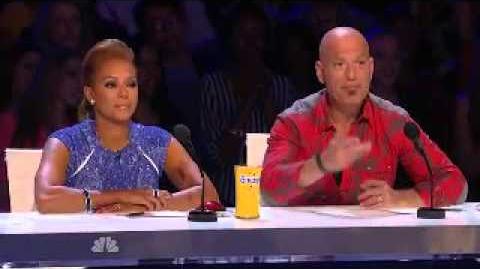 Vegas Round
Duo Resonance was sorted into the "Acrobat" category in the Vegas Round. The duo's performance in Episode 808 consisted of performing more acro-balance feats, this time on a spinning platform. Its performance was strong enough for the judges to send it to the Quarterfinals in Episode 809.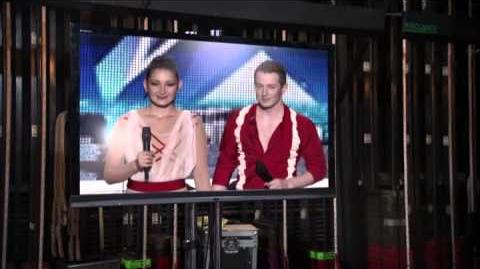 Quarterfinals
Duo Resonance's Week 5 Quarterfinals performance in Episode 818 consisted of performing acro-balance feats such as Yury doing a handstand on Nina's shoulders and sliding on a rotating circular platform, all to Glen Hansard's "Falling Slowly." The pair finished in either fourth or fifth place in America's Vote in Episode 819. In the Judges' Choice, although Heidi Klum voted for it, Howard Stern, Mel B, and Howie Mandel, did not, eliminating Duo Resonance from the competition instead of John Wing.
Wild Card
Immediately after its performance, Duo Resonance was selected by Heidi Klum as her Wild Card pick for the Semifinals.
Semifinals
Duo Resonance's Week 1 Semifinals performance in Episode 820 consisted of demonstrating acro-balance feats with a clear box to Pink's "Glitter." The duo did not receive enough votes to be sent to the Finals in Episode 821, eliminating it from the competition along with Jonathan Allen, instead of Forte.
External Links