Duo Trapeze

Information
Sex
Female
Act
Trapeze Artists
Seasons
9
Position Reached
Judgment Week
Duo Trapeze was a trapeze artist duo act from Season 9 of America's Got Talent. It was eliminated during Judgment Week.
Background
Duo Trapeze consists of Kelsey Saake and Nicole Mosses.
Kelsey inadvertently entered the world of circus arts four years ago when she stumbled across her college's circus collective, Circus Folk Unite!. What began as quest to learn how to juggle, quickly developed into a love for all things circus. With Circus Folk Unite she learned not only how to juggle but the basics of partner acrobatics, stilting and acro-yoga. Two years later she discovered the magic of aerial arts and circus transformed from a mere interest to what can only be described as an obsession. Kelsey has studied silks, trapeze (static, duo and flying), aerial rope, handstands and hand to hand. She loves how circus continually explores and expands the boundaries of what our bodies are capable of and is passionate about sharing this love with others and helping them build the strength and confidence to succeed both in the air and on the ground.
Kelsey also has an extensive background working with children, especially special needs populations. In the last six years she has worked in elementary schools, neuro-therapy centers, swim schools and after school centers teaching classes that ranged from Drama Therapy to private swim lessons to movement therapy classes and even Kung Fu. Kelsey recently graduated from Hampshire College with a degree in Cognitive Science. 1
Audition
Duo Trapeze's audition in Episode 904 consisted of performing acrobatic feats on the trapeze such as hanging by one foot and the duo spinning together with legs locked. Howard Stern, Heidi Klum, Mel B, and Howie Mandel all voted "Yes," sending the duo to Judgment Week.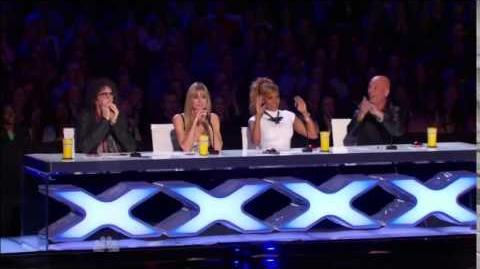 Judgment Week
Duo Trapeze was present during Judgment Week and they were put in the Acrobats category but they didn't progress to the Quarterfinals.
External Links
Community content is available under
CC-BY-SA
unless otherwise noted.