Eric Buss

Information
Age (at audition)
37
Sex
Male
Act
Novelty Act
Seasons
7
Position Reached
Quarterfinalist
Eric Buss was a novelty act from Season 7 of America's Got Talent. He was eliminated in the Quarterfinals.
Background
Eric Buss was born in Tucson, Arizona. At the age of seven seconds he knew what he wanted to do when he grew up… Later in life, at the ripe age of 8, he learned how to tinker in his dad's workshop… or as Eric used to call it, "Dad's Magical Tool and Gadget Nirvana." At 16, probably after ingesting some paint chips, he decided to make day dreaming and performing comedy a career. He never looked back.
Although most would agree that his props are totally awesome, it's Eric's personality that wins audiences over. His high-energy, and hilarious act has been called, "Pure Art, Pure Madness!" It combines pogo sticks, wigs, frozen turkeys, dancing licorice, impaled rabbits, and 375 spring snakes into a non-stop ride of mischief and magical gadgetry that most people could never imagine. Eric not only imagined it, he turned it into an award-winning act that he has performed around the world and on "The Late Show" with David Letterman. In fact, Letterman called his performance "Tremendous, sensational, beautiful and a real crowd pleaser," and that was only 90 seconds of it.
Eric's hard work began to pay off at the age of 20, when he won the coveted "Stage Champion of the Year" award at the world convention of the International Brotherhood of Magicians. Since then, Eric has performed on five continents and on TV in six countries. He has also appeared on the "Jerry Lewis MDA Telethon" and has shared the stage with William Shatner at the world renowned "Just for Laughs" Comedy Festival in Montreal. He made a command performance for the Royal Family of Monaco at their annual International Magic Gala in Monte Carlo. Eric is also a graduate of The Second City, considered the "Ivy League of Comedy Schools."
Now, at the age of "adult," Eric the Comedy Imaginator spends most of his time either in his own workshop (Eric's Magical Tool and Gadget Nirvana), or on stages around the world performing his clever brand of comedy, which is glued to his unique style of magic and props, which is duck-taped to his energetic personality. He loves the results! 1
Audition
Eric Buss submitted his audition onto YouTube. The audition consisted of his "Spring Snake Symphony," him shooting Spring snakes out of cans arranged in unique ways to the tune of Johann Strauss's "Blue Danube Waltz." Eric's audition was strong enough for the judges to send him to the Quarterfinals along with eleven other YouTube Acts.
Quarterfinals
Eric Buss's Quarterfinals performance in Episode 722 consisted again of his "Spring Snake Symphony," him shooting Spring snakes out of cans arranged in unique ways to the tune of Johann Strauss's "Blue Danube Waltz." Howard Stern and Sharon Osbourne both buzzed the act. He did not receive enough votes to be sent to the Semifinals, eliminating him from the competition in Episode 723 along with Melinda Hill, instead of The Magic of Puck.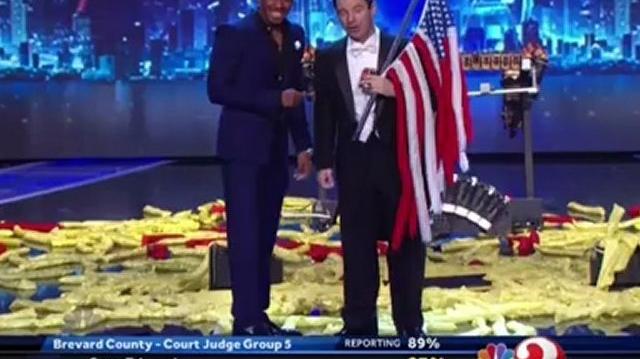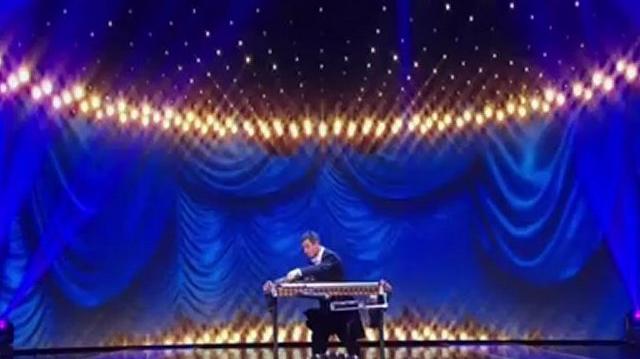 External Links
Season 7 Quarterfinals

Week 1
Week 2
Week 3
Week 4
YouTube
Wild Card
Community content is available under
CC-BY-SA
unless otherwise noted.