Franklin Saint

Information
Age (at audition)
41
Sex
Male
Act
Magician
Seasons
9
Position Reached
Judgment Week
Franklin Saint was a magician act from Season 9 of America's Got Talent. He was eliminated during Judgment Week.
Background
Franklin Saint works as a court process server. Franklin has been running a business as a entertainer for business people. "In ya face magic" has been in business since 2009. Franklin began learning the traditional craft of magic ten years before his audition mostly through books. He did not have a mentor like most magicians; he is completely self-taught. He quickly gained an understanding of the core principals of magic and continued implementing those techniques and theories with friends and family then eventually on the street performing for strangers. He quickly realized that he didn't require special props or gimmicks to create a magical momemt. The majority of his presentation is completely organic, and if it does not appear real, he will not present it.
Franklin has moved from the close-up realm into performing parlour and stage magic. This presents a difficulty due to his personal style of keeping his performance real and organic. It is this realism that has led him to a semifinal spot in a Spanish-speaking TV contest, Tengo Talento Mucho Talento, in which he beat three magicians.
A project Franklin is developing for the Spanish-speaking community is TV magic special where Franklin visits under-privileged children accross the nation and brings the magic to them. 1
Audition
Franklin Saint's audition was never televised, though a flashback revealed that it featured Franklin bending a fork's prongs seemingly with his own energy. He stated on YouTube that it was similar to this this routine [1]. It is unknown whether or not he was buzzed, but at least three judges voted "Yes," sending Franklin to Judgment Week.
Judgment Week
Franklin Saint was sorted into the "Magicians" category in Judgment Week. His performance in Episode 907 consisted of creating the illusion of compressing a water bottle, un-crushing an empty soda can, and sealing the soda can, now newly filled with soda, all with his own mental energy. Franklin's performance was not strong enough for the judges to send him to the Quarterfinals, eliminating him from the competition in Episode 908.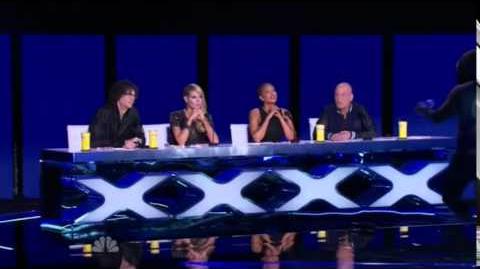 External Links
Season 9 Judgment Week

Immediately Moved On
Performed, Day 1
Performed, Day 2
Moved On (Untelevised)
Community content is available under
CC-BY-SA
unless otherwise noted.