Geechy Guy was a stand-up comedian act from Season 6 of America's Got Talent. He was eliminated in the Quarterfinals.
Background
Geechy Guy, whose real name is Michael Paul Cathers, started his career in his hometown of Rochester, MI. Beginning with magic at age 6, then juggling and unicycling at age 12, he settled on standup comedy at the ripe old age of 19. Geech was invited to San Francisco in the late 80's to compete in the prestigious Comedy Competition there. Finishing in the top 10 out of 500 comics, two years in a row, he headed down to Los Angeles to see what could happen. Shortly after arriving, Geech secured a spot on TV's "Star Search," (where he beat Ray Romano among others) and went on to set the record for the most appearances by a comedian (10).
Speaking of records, Geech set another one in August '93 when he told 676 jokes in one hour to land himself a spot in the Guinness Book of World Records. Staying in LA, Geech went on to make over 75 national TV appearances, including three on "The Tonight Show with Jay Leno." While touring the country as the opening act for the legendary "Righteous Brother" (200 shows in 4 years), he moved to Las Vegas in 1996 and started to perform there. Three years, over 25 casinos and several cruise ships later, Geech took a yearlong offer to star in a show in Reno, NV ("Nightbeat"). So he, his wife Alta, and their two cats Oscar and Emmy (get it?) all headed to "The Biggest Little City in the World." Buying a home and settling there, Geech was soon asked to star in another show, "The Geechy Guy Happy Hour." Now in its third year, the show has had successful runs at Harvey's, Harrah's Reno, and Circus Circus Reno where it is currently the longest running show in town. In 2003, the success of the new "Star Search" and the popularity of Ray Romano have sparked a renewed interest in Geechy Guy and his career. This has led to recent appearances and mentions on "CBS This Morning," "Entertainment Tonight," "Jimmy Kimmel Live" and "Esquire Magazine." Geech's future plans include recording a follow up to his top selling comedy CD and taping a live concert for television. 1
Audition
Geechy Guy's audition in Episode 605 consisted of making one-liner jokes. Although Piers Morgan voted "No," Sharon Osbourne and Howie Mandel both voted "Yes," sending him to the Vegas Round.
Vegas Round
Geechy Guy was one of the Judges' Favorites in the Vegas Round. He was sorted into the "Comedians" category. His performance in Episode 611 consisted of making jokes about topics such as license plates and "joke grenades." His audition was strong enough for the judges to send him to the Quarterfinals along with J. Chris Newberg.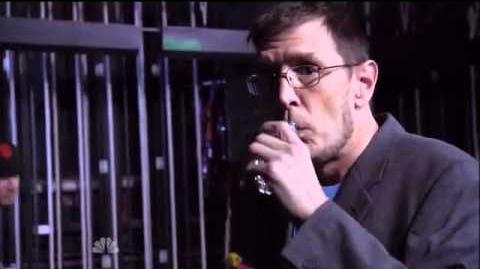 Quarterfinals
Geechy Guy's Quarterfinals performance in Episode 615 consisted of making jokes about topics such as sleeping pills, disposable cameras, and slogans. Piers Morgan buzzed the act. He did not receive enough votes to finish in at least fifth place in America's Vote, eliminating him from the competition in Episode 616 along with Attack Dance Crew, instead of Steven Retchless.
External Links