Illusionist Brett Daniels was a magician from Season 6 of America's Got Talent. He was eliminated in the Quarterfinals.
Background
Brett Daniels is internationally recognized for his exciting style of cutting-edge illusion performances headlining in major venues and television around the globe. Combining innovative large-scale illusion with dynamic theatrics and world-class sleight-of-hand have made him a favorite from Atlantic City to Las Vegas to China.
A two-time recipient of the "Entertainer of the Year" award (2008, 2009) Brett was also recognized in 2003 when he was voted "Magician of the Year" in Las Vegas. After setting box office records in Shanghai performing an unprecedented sixty-eight sold out arena shows, Brett traveled to Beijing where his magic TV special was broadcast live to 1.3 billion – more people than had ever before seen a magic performance at one time. Following that event, Brett has toured internationally each year through 2011.
Brett's illusion productions set themselves apart by creating never-before-seen twists on amazing mysteries alongside his industry-recognized creations of large-scale illusions such as the "Mid-Air Appearance Levitation," "Marilyn Monroe Dream Illusion," "Man Without A Middle" and scores of others. Brett has starred in several network televsion specials such as "The World's Greatest Magic" I, II, III, and V on NBC-TV, "Champions of Magic" on ABC-TV, "HoudiniUnlocking the Secrets" on NBC-TV, "Caesar's Palace Anniversary Special" on CBS-TV, "Masters of Illusion" on MyNetwork TV, and "The Tonight Show starring Jay Leno." In May of 2003 Brett received the "Magician of the Year" award in Las Vegas. In 2000, Casino Player Magazine voted "Brett Daniels MAGIQUE" "Best Show of the Millenium" -- an award he shared with "Seigfried & Roy" and "Cirque du Soleil." In 2008 and 2009 he was awarded the coveted "Entertainer of the Year" by the International Magician's Society.
In 2009, "Brett Daniels: Masters of Magic!" premiered at Myrtle Beach's 2700 seat Palace Theatre for a four month run and 2010 saw the return of "Brett Daniels: Magic & Beyond" to Atlantic City via the 1800 seat showroom at Tropicana Casino Resort. 1
Audition
Illusionist Brett Daniels submitted his audition onto YouTube. The audition consisted of creating the illusion of a motorcycle appearing out of nowhere, then disappearing, and then reappearing. His audition was strong enough for the judges to send him to the Quarterfinals along with eleven other YouTube Acts.
Quarterfinals
Illusionist Brett Daniels's Quarterfinals performance in Episode 621 consisted of creating the illusion of Marilyn Monroe disappearing from a painting and then appearing in real-life, then disappearing from real-life and re-appearing in the painting. Piers Morgan buzzed the act. He did not receive enough votes to finish in at least fifth place in America's Vote, eliminating him from the competition in Episode 622 along with Breena Bell and Kalani Basketball Freestyle, instead of Kevin Colis.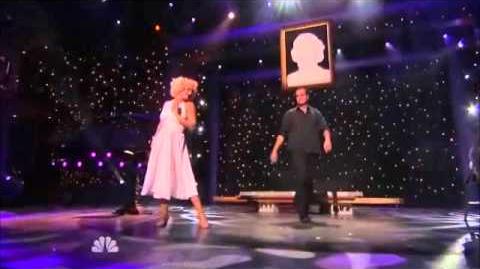 External Links