Illusionist Leon Etienne and Romy Low

Information
Age (at audition)
29, 26
Sex
Mixed
Act
Magicians
Seasons
8
Position Reached
Semifinalist
Illusionist Leon Etienne and Romy Low were an illusionist duo act from Season 8 of America's Got Talent. They were eliminated in the Quarterfinals, but returned to the Semifinals as Howard Stern's Wild Card pick, where they were eliminated again.
Background
Leon Etienne is an accomplished Magical Arts Performer. His interest in the art of magic began at the age of twelve, when Etienne recalls, "My mother had grounded me and sent me to my room where I quickly became bored. I came across a book of magic tricks that I had received as a gift, and ever since that day, I have been hooked." One year later, while playing in a baseball game, Etienne was very lucky to have survived being struck by lightning.
Today, Etienne has well over a decade of professional performing experience. He has performed for thousands of audiences in hundreds of different venues. His love and passion for the art of magic has taken him all over the globe, performing nationally and internationally in Germany, Ireland, Wales, Australia, and at the world-famous magic circle in London, England. Etienne's performances have won him several prestigious awards, including CNY Magician of the Year, and Stage Magic Champion from the Magicians' Alliance of Eastern States.
Etienne has had the honor of performing as the opening act for several major national recording artists, including Billboard's Heatseekers Chart #1 artist Eric Hutchinson, The Marshall Tucker Band, and platinum-selling Blue Oyster Cult.
Currently, Etienne stars in his own acclaimed illusion show. He performs publicly on industry leading cruise ships, at major resorts, casinos, and performing arts centers. He is also frequently asked by private individuals, small businesses, and corporations worldwide to make special appearances at prestigious events. [1]
Leon and Romy have been performing together professionally for over eight years and all over the globe, including in Las Vegas, North Africa, Ireland, Wales, Australia and the world-famous Magic Circle in London, England. Always striving to improve his current skills, Leon has a passion for sleight of hand and manipulation that sets him apart from so many popular illusionists today. Paired with Romy's unmatched creativity and showmanship, the duo blend the beauty and mystery of close-up magic with grand illusions, creating theatrical effects with a rock n' roll edge. [2]
Audition
Leon Etienne and Romy Low's audition in Episode 804 consisted of creating the illusions of Romy Low appearing from thin air into a clear box, Romy replacing a chained Leon after one rotation around the box, and correctly guessing the card Nick Cannon received from a standard deck. Howard Stern, Heidi Klum, Mel B, and Howie Mandel all voted "Yes," sending the act to the Vegas Round.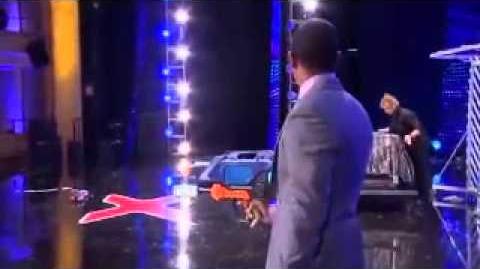 Vegas Round
Illusionist Leon Etienne and Romy Low were sorted into the "Magicians" category in the Vegas Round. Their performance in Episode 809 consisted of creating the illusion of Romy levitating on top of a metal pole. The duo's audition was strong enough for the judges to send them to the Quarterfinals along with Collins Key in the same episode.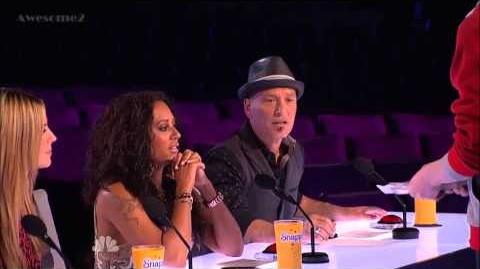 Quarterfinals
Illusionist Leon Etienne and Romy Low's Week 3 Quarterfinals performance in Episode 814 consisted of performing an illusion from the back, showing the trick as if the audience was on the opposite side of the stage. The duo presented a trick in which Leon appeared to teleport from one box to another and Nick Cannon appeared from seemingly nothing. Howard Stern disliked their performance, and therefore buzzed the act. The duo did not receive enough votes to be sent to the Semifinals in Episode 815, eliminating it from the competition along with AeroSphere Aerial Balloon Show and David "The Cobra Kid" Weathers.
Wild Card
In Episode 821, Howard Stern announced that he selected Leon and Romy as his Wild Card pick for the Semifinals, so the duo returned to the competition.
Semifinals
Leon and Romy's Week 2 Semifinals performance in Episode 822 consisted of performing seven different illusions such as creating the illusion of the drawing of a bowling ball on a sketchpad becoming a real ball, Romy changing her clothes in mere seconds, and women seeming to appear from nowhere out of magic boxes. The duo did not receive enough votes to be sent to the Finals in Episode 823, eliminating it from the competition along with John Wing, instead of Kenichi Ebina.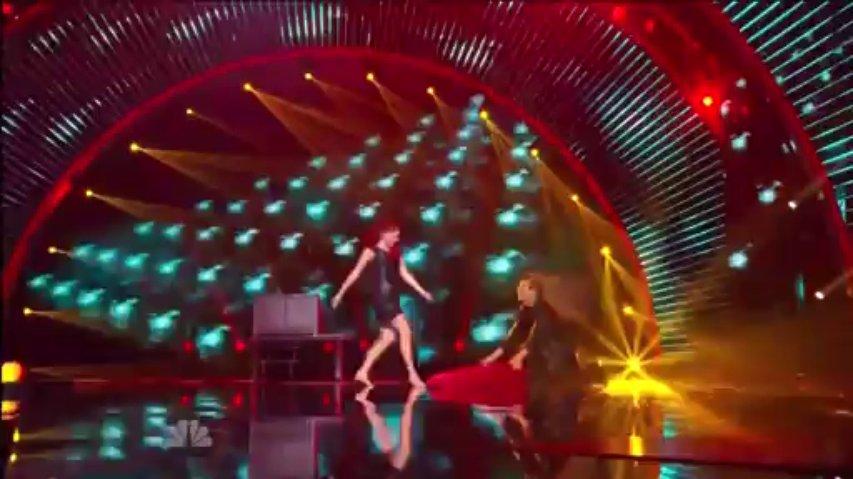 After the Show
Leon and Romy appeared on Season 2 of Penn & Teller: Fool Us, and successfully fooled Penn & Teller.
External Links