Iron Horse was a Rockabilly band act from Season 5 of America's Got Talent. It was eliminated in the Quarterfinals.
Background
Iron Horse is much more than your average band. The three guys in the band know how to put on a great show and give the audience an experience that they'll never forget. With a distinguishable resume', Iron Horse brings professionalism and fun to the next level. They've recorded albums at the world famous Sun Studio and Sam Phillips Recording Studio in Memphis, Tennessee. Their latest studio release, "Reel Music", was produced and engineered by Roland Janes, original Sun Records "house" guitar player and founding member of Jerry Lee Lewis' and Billy Riley's bands. Roland said that Iron Horse is "one of the best young bands I've heard in a long time!" 1
Two of the three members of the band are identical twins.
Audition
Iron Horse's audition in Episode 507 consisted of the three members playing an electric guitar, a bass violin, and the drums while performing tricks such as standing on the bass violin while still playing music and throwing a guitar in the air and then catching it. At least two judges voted "Yes," sending the group to the Vegas Round.
Vegas Round
Iron Horse was one of the Standby Acts in the Vegas Round. It was sorted into the "Bands" category. Its performance in Episode 512 consisted of performing "I'm Gonna Love You." Its audition was strong enough for the judges to send it to the Quarterfinals along with The Strange Familiar.
Quarterfinals
Iron Horse's Quarterfinals performance in Episode 515 consisted of performing "American Saturday Night" and performing tricks such as hitting a bass violin with drumsticks and standing on the bass violin. Piers Morgan buzzed the act. Piers felt the lead singer has weak vocals. Sharon didn't like the trio spending too much time on tricks. Howie agreed with both of them. It did not receive enough votes to finish in at least fifth place in America's Vote, eliminating it from the competition in Episode 516 along with Cheer SF, instead of Alice Tan Ridley.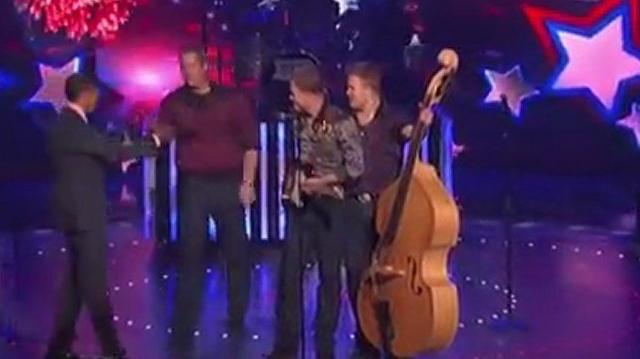 External Links