Jackie Evancho is a classical singer from Season 5 of America's Got Talent. She finished the competition in second place. Jackie returned for America's Got Talent: The Champions, where she was eliminated in the Preliminaries.
Background
Jackie Evancho says her desire to perform was born after her family saw the film version of "The Phantom of the Opera" when she was just seven years old. "We went to see it in the movie theater. It was very, very good," Jackie told Pennsylvania television station WPXI. "It was a very long movie and we were mesmerized by it." Her mother, Lisa, purchased the DVD and something in Andrew Lloyd Webber's score made a big impression on the little girl. Still, as she sang the melodramatic tunes from the film around the house in her shimmering soprano, "We really didn't think [her voice] was anything out of the ordinary," says her dad, Mike. "She's our oldest daughter; there were no other seven-year-olds to compare it to."
Mike and Lisa remember the night they realized that had more than just a "nice" voice. "At her first little talent competition, we invited my parents," Mike recalls. "She started to sing, my folks looked at each other like 'What's going on here?' Plus with the crowd reaction, we knew how special her singing was."
She auditioned twice for "AGT" in person in Philadelphia before Season 5, but the producers passed on her. "I saw a video with Nick Cannon saying they were [also] doing YouTube auditions," recalls Jackie's father Mike. "We decided to put something up and then we forgot about it." 1
Audition
Jackie Evancho submitted her audition onto YouTube. The audition consisted of singing "Panis Angelicus." Her audition was strong to receive enough votes from YouTube users to vote her immediately into the Quarterfinals.
Quarterfinals
Jackie Evancho's Quarterfinals performance in Episode 521 consisted of singing "O Mio Babbino Caro." She received enough votes to be sent to the Semifinals in Episode 522 instead of Ryan Rodriguez.
Semifinals
Jackie Evancho's Semifinals performance in Episode 527 consisted of singing "Time to Say Goodbye." She received enough votes to be sent to the Finals in Episode 528 instead of Haspop and Maestro Alexander Bui.
Top 10
Jackie Evancho's Top 10 Finals performance in Episode 529 consisted of singing "Pie Jesu." She received enough votes to be sent to the Final 4 in Episode 530 instead of Anna and Patryk.
Final 4
Jackie Evancho's Final 4 Finals performance in Episode 531 consisted of singing "Ave Maria."
Finale
For the finale in Episode 532, Jackie Evancho performed "Time to Say Goodbye" in a duet with Sarah Brightman. Jackie was revealed to have finished in second place in the competition that same night, ahead of Fighting Gravity and Prince Poppycock, but behind Michael Grimm.
The Champions Preliminary
Jackie returned for The Champions. Her performance in Episode TC05 consisted of singing "Music of the Night" from Phantom of the Opera.  Howie Mandel , Mel B , Heidi Klum and Simon Cowell all gave her standing ovations.  Jackie did not receive enough votes to place in the night's top 3, eliminating her from the competition.
The Champions Finale
Jackie returned as a guest performer in Episode TC07. She sang "Somewhere" from West Side Story.
After the Show
Since appearing on America's Got Talent, Jackie has recorded one EP (O Holy Night) and three full-length albums (Heavenly Christmas, Dream With Me, and Songs from the Silver Screen), all of which raced to the top of the Billboard charts.
When O Holy Night, which was Jackie's major label debut, was released in November 2010, it became the year's #1 best-selling debut recording with sales exceeding 1 million copies. It rocketed into the Billboard 200 at #2, and the EP's chart and sales success secured Jackie's position as the year's top-selling debut artist as well as the youngest female solo artist to debut during the SoundScan era. In addition to its pop chart success, O Holy Night reached #1 on the Billboard Classical Chart and #2 on the Billboard Holiday chart.
In June 2011, Dream With Me, her first studio album was released. A mix of operatic arias, show tunes and pop standards, it debuted on the Billboard Top 200 chart at #2 and was certified Gold after only four weeks of release. When PBS aired Dream With Me In Concert on their Great Performances series, it instantly became one of their most broadcast programs of the year and was used extensively during pledge drives.
In the finale of Season 6  in Episode 632 of America's Got Talent on September 14, 2011, Jackie Evancho sang "Nessun Dorma" as a special guest.

In the summer of 2011, she sold out concert halls around the country during a tour that culminated with a show at home in Pittsburgh and later at Lincoln Center in New York City. Her most recent effort, "Heavenly Christmas," a full-length holiday album, was released in November 2011. 2 Her fourth studio album, Songs from the Silver Screen, was released on October 2, 2012.
Jackie Evancho made a guest appearance in Season 9 of America's Got Talent in Episode 922 on September 10, 2014. Her performance consisted of singing The Phantom of the Opera's "Think of Me."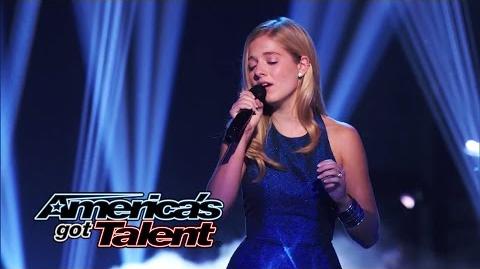 On January 20, 2017, Jackie Evancho performed at the inauguration of Donald Trump, singing the national anthem, "The Star-Spangled Banner."
In 2019, Jackie competed on the World's Got Talent special held in China. She was the Judges' Choice winner on her Preliminary, which sent her to the Semifinals. Jackie ended up being eliminated in that round, losing to a dance group created and led by Atai Omurzakov, who had previously competed on Britain's Got Talent as part of Tumar KR. Atai is also affiliated with ADEM Show.
In 2020, Jackie was unmasked as the Kitty on the third season of The Masked Singer, finishing in 5th place.
Trivia
Jackie Evancho has progressed farther in the competition than any other YouTube Act, all the way to 2nd Place. West Springfield Dance Team reached the Top 10, but no other YouTube Act has progressed past the Semifinals.
She was the youngest act in the Final 4 of Season 5, being only ten years old. She was also the only female contestant.
She is the second-youngest runner-up in the show's history behind Season 12 runner-up Angelica Hale.
Jackie is the first AGT alum to cross over to The Masked Singer.  
Jackie is the highest placing act to date to make their first televised appearance in the live shows.
Jackie is the only act from the YouTube specials to participate on America's Got Talent: The Champions .
External Links
Season 5 Quarterfinals

3 • 4 • 5 • 6 • 7 • 8 • 9 • 10 • 11 • 12 • 13 • 14 • 15 • 16

Week 1
Week 2
Week 3
Week 4
YouTube
Wild Card