Jen Seaman

Information
Sex
Female
Act
Stand-up Comedienne
Seasons
6
Position Reached
Vegas Round
Jen Seaman was a stand-up comedienne act from Season 6 of America's Got Talent. She was eliminated in the Vegas Round.
Background
Jen Seaman has been bringing to the stage an imaginatively whimsical and sometimes dark style of humor for over six years. Her bizarre upbringing, tales of a baby-obsessed mother and an unwavering desire to stay independent all play a part in making this sweet 5'1'' spitfire unique.
She can been seen on Comedy Central's AtomTV in the viral hit video, "BP CEO: Apology Outtakes," and has recently been named Seattle's Best Comedian by Seattle Weekly. In addition, Seaman has performed in a variety of comedy festivals most notably Bumbershoot (Seattle), She-Devil Comedy Festival (New York), and the Women in Comedy Festival (Boston). Along the way she has made plenty of friends and fans as well as making her mother very nervous with all of the cross-country traveling.
When not on stage or writing Seaman can be found indulging in her other passion, baking, for her web series, "The Filling is Mutual." "The Filling is Mutual" is a unique combination of sweets and laughs in which she and a fellow comedian use jokes as an inspiration for the creation of delicious treats. 1
Audition
Jen Seaman's audition was never televised. Seaman received three yeses and was sent to Vegas. During her set she received two standing ovations, one was from a comment she delivered to Piers Morgan after the audience had died down he said, "Well the audience isn't laughing and yelling right now." Seaman said, "Yes, because in America we're polite and we don't interrupt," inferring that the audience was being polite in not yelling while Piers was talking.
Vegas Round
Jen Seaman was one of the Judges' Favorites in the Vegas Round. She was sorted into the "Comedians" category. Her performance in Episode 611 consisted of giving a comedy routine about how she used to be the weird kid in the grocery store. Her audition was not strong enough for the judges to send her to the Quarterfinals, eliminating her from the competition along with Jammin Jay Lamont.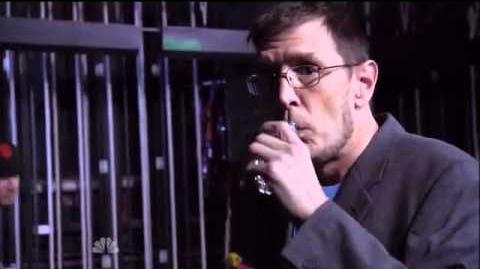 External Links