Jia-Yi He was a harmonica player act from Season 5 of America's Got Talent. He was eliminated in the Vegas Round.
Background
Jia-Yi He, a world-class harmonica virtuoso, has received numerous awards in international festivals and competitions in England, Germany, Israel, Japan and United States. He has served as a member of the judging committees in the Asia-Pacific Harmonica Competition in Taiwan, Malaysia, Hong Kong, Hangzhou and Singapore. Mr. He has appeared as a soloist with the China National Symphony Orchestra, China National Ballet Symphonic Orchestra and the Nassau Pops Symphony Orchestra. He has appeared at many television stations including ABC-news, News 12 Long Island, Queens Public Television and Sino Television in the United States. Mr. He has recorded harmonica music for a number of movies, radio stations and CDs. He was invited to perform at the General Assembly Hall at the United Nations. The New York Mets have chosen him to perform a pre-game show at Shea Stadium. Currently, Mr. He is a harmonica teacher at the Turtle Bay Music School in New York City. 1
Audition
Jia-Yi He's audition in Episode 503 consisted of playing "Rondo Alla Turca" with four harmonicas simultaneously. Piers Morgan, Sharon Osbourne, and Howie Mandel all voted "Yes," sending Jia-Yi to the Vegas Round.
Vegas Round
Jia-Yi He was one of the Judge's Favorites in the Vegas Round. He was sorted into the "Harmonica Players" category. His performance in Episode 511 consisted of performing the "Carmen Overture" with five harmonicas simultaneously. His audition was not strong enough for the judges to send him to the Quarterfinals, eliminating him from the competition.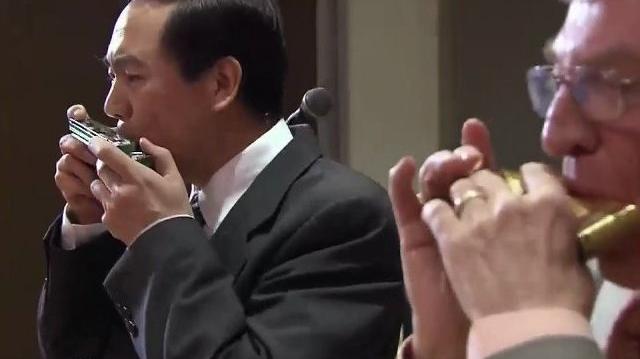 External Links