Jimmy Dinh

Information
Age (at audition)
36
Sex
Male
Act
Stand-up Comedian
Seasons
5
Position Reached
None
Jimmy Dinh was a stand-up comedian act from Season 5 of America's Got Talent. He was eliminated in the audition round.
Background
Vietnamese twin boys, Jimmy and Daniel Dinh were born in Vietnam during the Vietnam War. The twins spent the war years hungry and in fear of falling bombs. When the war ended, life was very hard. The twins were ridiculed and abused by the other kids in their village because their father was in jail.
Daniel, Jimmy, and two of their siblings fled Vietnam for America in 1991. After spending six months in a Philippine refugee camp, they settled in the US with no money and poor English. However, with study, hard work and the helps of good-hearted Americans, Daniel and Jimmy managed to make a place for themselves in America with successful careers in Hollywood as eyelash gurus. They own eyelash spas in Sunset Plaza and Beverly Hills, a wholesale store of eyelash supplies and equipment in Westminster, and a small eyelash manufacturing factory in Vietnam with over 120 employees.
When Jimmy wasn't doing eyelash extensions for Hollywood celebrities at his shop near Sunset Plaza, he took acting and standup comedy classes. Jimmy's comedic instincts were soon discovered by Ivana Chubbuck and Tasha Smith and honed at the Judy Carter Comedy Workshop and at open mic performances all over Hollywood. "I use my jokes to make the audience laugh by reminding them of good, natural human behavior and not to defeat other comics," Jimmy says. Jimmy's physicality, accent, passion, and jokes are grounded in his Vietnamese culture. 1
Audition
Jimmy Dinh's audition in Episode 510 consisted of joking about his accent, the Vietnam War, and being a chicken flacker. Piers Morgan, Sharon Osbourne, and Howie Mandel all buzzed the act. Although Piers voted "Yes" (to "make Jimmy feel better"), Sharon and Howie both voted "No," eliminating Jimmy from the competition.
Audition All Stars
Jimmy Dinh performed as one of the ten Audition All Stars in the Season 5 America's Got Talent finale. His role in Episode 532 consisted of singing "I Gotta Feeling" with the others.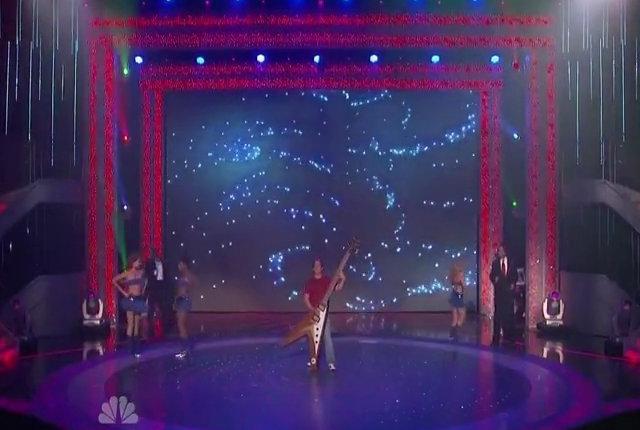 External Links