Jodi Miller

Information
Age (at audition)
42
Sex
Female
Act
Stand-up Comedian
Seasons
9
Position Reached
Judgment Week
Jodi Miller was a stand-up comedienne act from Season 9 of America's Got Talent. She was eliminated before Judgment Week.
Background
With over 14 years experience performing standup, Jodi Miller is not afraid to push the envelope and in doing so, crowds undeniably give a loving stamp of approval. As an animated, high energy comic, Jodi's banter covers everything from cats, to singer/songwriters, and how her dad is desperate to get her knocked up. ​ A native of New Jersey, Jodi Miller graduated East Stroudsburg University with a degree in Broadcast Journalism. Her ease in front of the camera transitioned to scoring roles in the Soprano's and Law & Order and as a stand-up comic quickly endearing fans on both coasts. Jodi's "just got out of bed- raspy" voice combined with her spontaneous, quirky facial expressions creates an addictive mix of incredible wit and charm.
Currently, kicking her feet up in Los Angeles, Jodi is a comedian, television and film writer, and leading lady. Not to mention, a skilled Improv and Sketch Comedy artist that has captivated audiences nationwide. She is currently a Main Company member at the ACME Theater (Los Angeles) where her creative talents flourish as a head writer, performer, and coach. Her critically acclaimed one woman show, "Flying Coach," (debuting in Los Angeles) was awarded Critic's Pick, due to popular demand was extended twice, and poured in outstanding reviews: "…biting wit, zinging one-liners and excellent writing" LA Weekly, and Stage Critic's Choice from City Beat.
As an accredited writer, Jodi credits include the HBO/Cinemax series Co-Ed Confidential, Dark Portal (a supernatural thriller starring Lou Diamond Phillips and Pam Grier), and a currently untitled horror script from the creators of Dirty Deeds. She is the co-author of the WTF Series including: WTF College: How to Survive 101 of Colleges Worst F*#!-ing Situations and WTF Work How to Survive 101 of Worst F*#!-ing Situations at Work. WTF Women, WTF America & OMG Guys Both are currently a featured choice in bookstores nationwide and on Amazon.com. Jodi's innate ability to captivate audiences has landed her appearances on hit shows such as MTV's The Rob and Big Black as the comedy coach, The Tonight Show, Chelsea Lately, and Comedy Jam:Entertainers with Bryon Allen. She also is a reoccurring guest commentator on CNN's Showbiz Tonight, TV Guide's Hollywood 411, and the co-host of the award-winning The Damage Report on LA Talk Radio.com, a well as the star of NewsBusted, a weekly internet news show that pokes fun at politics and entertainment. 1
Audition
Jodi Miller's audition in Episode 903 consisted of joking about how men act like cats, and women act like dogs. Howard Stern, Heidi Klum, Mel B, and Howie Mandel all voted "Yes," sending Jodi to Judgment Week.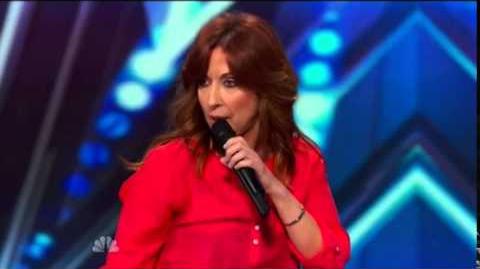 Judgment Week
She did not make it to Judgment week. Even though the judges loved her act and she got the four Yes's to advance, she got an email the day she was supposed to leave for the next round that told her "Sorry, you're not advancing, best of luck". No reason given at all. (This is according to an interview she gave) [1]
Trivia
In her audition, she said her job is to help people who want her to deliver their groceries to deliver their groceries.
External Links
Community content is available under
CC-BY-SA
unless otherwise noted.