John & Andrew

Information
Age (at audition)
21, 41
Sex
Male
Act
Salsa Dancers
Seasons
9
Position Reached
Quarterfinalist
John & Andrew were a salsa dancer duo act from Season 9 of America's Got Talent. They were eliminated in the Quarterfinals.
Background
John Narvaez is world-class ground-breaking Salsa dance artist and director of the popular World Class Salsamania Dance Company founded in 2000. John came to the U.S. from Colombia as a child. Drawing upon the rich heritage of rhythm from their Colombian roots—a musical universe in its own right, John brings an undeniable love and intelligence to their approach of Salsa Dance. He has evolved a deep appreciation for the beauty of Latin dance into a clear vision of sharing his passion and knowledge of Salsa throughout the world. In 1997, he began to build his skills and credibility through teaching and performing, and competing where he won top honors. The international interest in and influence of John's teachings is spread across several continents. He is regularly invited to perform, along with their professional dance team in many parts of Asia, Europe, Canada and South America. John promotes his local and international activities as a means to enhance awareness of the tremendous beauty and benefits of Salsa Dance, and the many opportunities to learn and perform on a world-wide scale.
Andrew Cervantes is currently the World Latin Dance Cup Champion in the same gender division. Following the footsteps of his mother, at age 13, he began his training with Yemaya Salsa Dance Company based in Sacramento California. By the age of 16 years old, he was performing at various salsa congresses. With a strong desire and passion to improve his dancing, Andrew's intense training with World Class Salsamania Dance Company based in San Francisco, Bay Area. Andrew exudes tremendous showmanship and energy both on stage and on the dance floor. He has the ability to lead and follow and is most known for his following styling and multiple fast spins. 1
While John is "very straight," Andrew is "very gay." The two became a dance pair after dancing socially one time and putting on a great performance.
Audition
John & Andrew's audition in Episode 902 consisted of salsa dancing together with rapid spins. Afterwards, Howard Stern and Howie Mandel joined the duo on stage to dance. Howard, Heidi Klum, Mel B, and Howie all voted "Yes," sending the duo to Judgment Week.
Judgment Week
John & Andrew were sorted into the "Dance Acts" category in Judgment Week. Their performance in Episode 907 consisted of Salsa dancing, this time at an even faster pace and with more spins. The judges were so impressed that they opted to send the duo to the Quarterfinals immediately.
Quarterfinals
John & Andrew's Week 2 Quarterfinals performance in Episode 911 consisted of Salsa dancing with quick spins, faster speeds, and more intricate lifts. The pair did not receive enough votes to be sent to the Semifinals, eliminating them from the competition in Episode 912.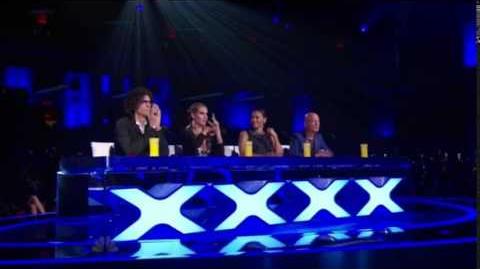 External Links
Season 9 Judgment Week

Immediately Moved On
Performed, Day 1
Performed, Day 2
Moved On (Untelevised)
Season 9 Quarterfinals

Week 1
Week 2
Week 3
Week 4
Wild Card
Community content is available under
CC-BY-SA
unless otherwise noted.