John Pizzi was a virtual ventriloquist act from Season 6 of America's Got Talent. He was likely eliminated before the Vegas Round. John returned for Season 7, where he was eliminated in the Vegas Round.
Background
John Pizzi has opened for entertainers like Jerry Vale, Johnny Maestro and the Brooklyn Bridge, Joy Behar, Weird Al Yankovic, The Trammps, The Regents, Al Martino, Clint Holmes and more, performing as a national headliner at comedy clubs, resorts, colleges, and theaters across the United States. Starring in a one man show of comedy, magic and ventriloquism adaptable from 15 minutes to an hour of high energy comedy, John Pizzi is a regular at the Riveria Hotel in Las Vegas and the Borgata Hotel in Atlantic City. He is a member of the Friars Club in New York City and Los Angeles. 1
Season 6 Audition
John Pizzi's audition in Episode 607 consisted of placing a dog muzzle on Nick Cannon and then using him as a human dog dummy. John's verdict was not televised, but at least two judges voted "Yes", sending him to the Vegas Round.
Season 6 Vegas Round
John Pizzi did not compete in the Vegas Round, meaning he was either cut or withdrew before this stage of the competition.
Season 7 Audition
John Pizzi's audition in Episode 704 consisted of joking about the sexual attention between the judges while also voicing the three judges and the "daughter of Howard Stern and Howie Mandel" with his mouth seemingly closed while images with moving mouths and eyes appear on the screen next to him. Howard Stern, Sharon Osbourne, and Howie Mandel all voted "Yes," sending the act to the Vegas Round.
Season 7 Vegas Round
John Pizzi was one of the Standby Acts in the Vegas Round. He was sorted into the "Novelty Acts" category. His performance in Episode 713 consisted of using virtual ventriloquism to present a romantically-inclined conversation between two people whose "lives switched." He did this by putting iPads on top of their actual faces. Afterwards, the "virtual faces" were replaced by those of real-life couple, judge Sharon Osbourne and her husband Ozzy. His audition was not strong enough for the judges to send him to the Quarterfinals, eliminating him from the competition along with The Two Bits.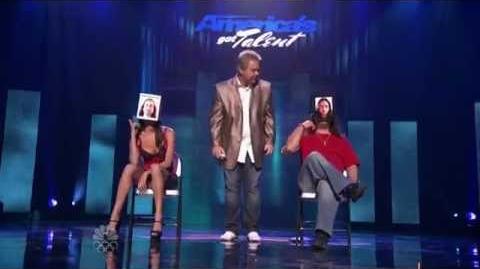 Trivia
John Pizzi was the only ventriloquist of Season 6 whose audition was televised.
External Links
Season 7 Vegas Round

Uncategorized
Judges' Favorites
Standby Acts
Withdrew
Disqualified