Jolie & Lester were a novelty act from Season 4 and Season 11 of America's Got Talent. The duo was eliminated in the audition round in Season 4, and in season 11.
Background
Julie and Lester Steele met on match.com and married in 2003. In 2005, they were third runner up in the International Cajun Joke Telling Contest in Opelousas and a year later finished second place in the USA network's "Show Us Your Character" contest. They own a variety of entertainment-business companies that cater to everything from children's birthday parties to corporate events and also run a talent agency.
"We're full-time entertainers," said Lester Steele, a former dirt-track race-car driver and circus performer. They perform at festivals and other events and own more than 300 costumes, including 11 of Barney, the purple dinosaur of children's television.
Lester's curiousity about Cajun life led to the act they performed on "America's Got Talent" as "Jolie" and "Villain," French for pretty and ugly. 1
Season 4 Audition
Jolie & Lester's audition in Episode 404 consisted of Julie Steele singing and playing Hank Williams' "Jambalaya" on guitar while Lester balanced a lawn mower and played a metal washboard strapped across his belly. Nick Cannon then heaved heads of lettuce into the mower's blades. Piers Morgan, Sharon Osbourne, and David Hasselhoff all buzzed the act. All three judges voted "No", eliminating the duo from the competition.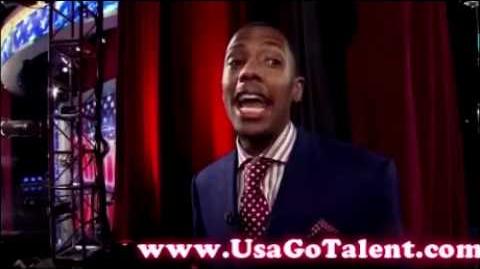 Season 11 Audition
Jolie & Lester's audition in Episode 1104 consisted of Jolie strumming the metal washboard strapped against her. Since only very little was seen during the show, it is unknown what else happened in the act, and it is unknown if Jolie auditioned by herself or if Lester was again there with her. All four judges voted "no".