Jordan & Nasko

Information
Sex
Male
Act
Balancing Duo
Seasons
2
Position Reached
Vegas Round
Jordan & Nasko were a father & son balancing duo from Season 2 of America's Got Talent. They were eliminated in the Vegas Round.
Background
Jordan was a child prodigy of sports acrobatics, and a gymnast since the age of seven. He won the European Championship and was a three time national champion of Bulgaria for mixed pair work. In 1981, he was awarded with a prestigious honor, "Master of Sports." His balancing abilities placed him first at the National Festival of Variety Performers, and have given him an opportunity to perform around the world. As a solo hand balancer, since 1996 to 2000, he took part in different variety shows, theaters, and circuses in Europe, as well as Southwest Asia and Japan. Since the year of 2000, he moved to the United States, and he performs with his son, Nasko. They created an extraordinary acrobatic and hand balancing act, which displays skill, strength, and balance.
Nasko is a gymnast and a professional performer since the age of six. In 2004 and 2005 he was a state champion of Nevada and a regional champion for gymnastics. In ten years of performing with his father, his stage experience includes performing for Planet Hollywood in Las Vegas, Cirque Du Soleil, Circus World Museum, TV shows, NBA games, UNICEF, corporate and convention events around the USA, and as a special guest entertainer for one of the most popular cruise companies in the world, Royal Caribbean International..
Jordan and Nasko perform with creative and innovative choreography that compliments the power, strength, and agility of their hand balancing. Many say that they have taken acrobatics to a new level. Jordan and Nasko currently live, perform, and teach gymnastics and sports acrobatics in Las Vegas. 1
Audition
Jordan & Nasko's audition in Episode 201 consisted of hand-to-hand balancing, with a variety of poses in the air. Piers Morgan, Sharon Osbourne, and David Hasselhoff all voted "Yes", sending them to the Vegas Round.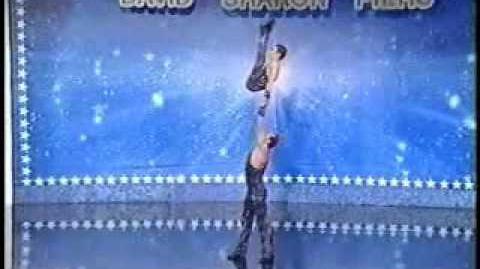 Vegas Round
Jordan & Nasko were sorted into the "Variety" category during the Vegas Round. Their performance in Episode 205 was never televised, but it was not strong enough for the judges to include them in the Top 35 shortlist, eliminating them from the competition along with Liang Patti, Meghan Miller and JabbaWockeeZ.
External Links