Joseph Allen (Born June 10th, 1997) was a singer and rapper act from Season 14 of America's Got Talent.  He was eliminated in the Quarterfinals.
Background
Joseph Allen grew up racing motorcycles, sometimes jumping them farther than 100 feet. He has broken so many bones over the years that the bones and ligaments in his body are now held together with nine screws, a four-inch titanium plate, four internal nylon ropes, two metal anchors and more.
Because of the danger of his sport, his mother suggested that he put his motocross racing dreams behind him and focus on getting a college education. He promptly moved to Phoenix, Arizona, and while in college there he discovered his talent for songwriting and performing. When he noticed that the students at his school liked his original music, he picked up a job as a certified tire technician and worked nonstop to save $5,000 that he invested in building a recording studio in his dorm room. He spent endless nights learning how to produce, play the piano, engineer sounds and record, mix and master his music. Then he began releasing his music on all platforms and realized that it was more than just students at his school that liked his music. Joseph Allen's fan base and following on social media is growing so fast, there is really no telling how much he will change the world! [1]
Audition
Joseph Allen's audition in Episode 1402 consisted of performing an original song about his desire to leave an impact on the world. Inspired by his performance, Howie Mandel hit the Golden Buzzer (with his foot), sending Joseph straight into the Quarterfinals.
Quarterfinals
Joseph Allen's Quarterfinals performance in Episode 1413 consisted of singing and rapping an original song titled "Mama". Howie Mandel and Gabrielle Union gave him standing ovations. Simon Cowell had started "it wouldn't have been that good if we couldn't see your parents. Joseph did not receive enough votes to advance to the Semifinals in Episode 1414, eliminating him from the competition instead of Tyler Butler-Figueroa.
After the Show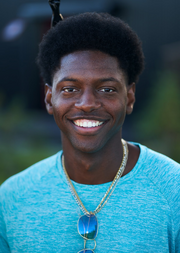 Allen competed on the 36th season of MTV's "The Challenge", Double Agents. He was initially partnered with Tula "Big T" Fazakerley. However, he lost an elimination to Kyle Christie, placing last for the males, and 30th out of 30 competitors, due to Ashley Mitchell's return.
Trivia
Joseph Allen is the first auditions Golden Buzzer to be eliminated in the Bottom 4 of a Quarterfinals, since Dorothy Williams in Season 11. However, Joseph is the first main judge Golden Buzzer to have this feat.
Joseph Allen is currently Howie Mandel's worst performing Golden Buzzer act since the new format was upgraded in Season 10
Joseph is the first AGT alumni to compete on any season of MTV's The Challenge.
External Links
Season 14 Quarterfinals

3 • 4 • 5 • 6 • 7 • 8 • 9 • 10 • 11 • 12 • 13 • 14 • 15 • 16

Week 1
Week 2
Week 3
Wild Card