Jungle John

Information
Age (at audition)
56
Sex
Male
Act
Bug Daredevil
Seasons
9
Position Reached
None
Jungle John was a bug daredevil act from Season 9 of America's Got Talent. He was eliminated in the audition round.
Background
"Jungle John" LaMedica has been entertaining in the Tri-State area, and around the United States, since 1988. After receiving a degree in Zoo keeping from Santa Fe College in Gainesville, Florida, John became Supervisor at the Brandywine Zoo in Wilmington, Delaware for 6+ years. In addition to animal care and supervisory responsibilities, he did animal shows for their traveling zoo program. He left in 1988 to start his own business. His specialty is the "Jungle John" show, where he comes dressed in a safari outfit (including pith helmet) and provides a live reptile show. Always with him is "Wally Gator", a 6-1/2 foot American alligator, and "Larry Boa", an 10-ft. boa constrictor, along with various other reptiles and amphibians (and a few from the insect world as well).
Jungle John has performed at schools, corporate events, private parties (including birthdays), trade shows, the Grand Opera House, the Museums of Natural History in Delaware and Philadelphia, the Governor's mansion, and hundreds of other venues and events. He has also been a featured attraction at First Nights in Delaware, Maryland, New Jersey and Virginia.
John is also an accomplished balloon artist, and has added many other shows to his repertoire including a "Man-Eating Balloon Show", the finale of which includes John climbing inside of a 6-ft. balloon.
Jungle John is a two-time Guinness World Record holder and a Ripley's Believe It Or Not! Record holder; he has appeared on the "Guinness World Records: Primetime" television show, "Ripley's Believe It Or Not!" the Ricki Lake Show, and numerous other national and local television and radio shows.
Jungle John is available for events, schools, parties - all events. 1
Audition
Jungle John's audition in Episode 905 consisted of placing four Madagascar hissing cockroaches into his mouth. Howard Stern buzzed the act. Howard, Heidi Klum, Mel B, and Howie Mandel all voted "No," eliminating John from the competition. Assisting Jungle John in his act was his son, Broadway tour actor Nick LaMedica.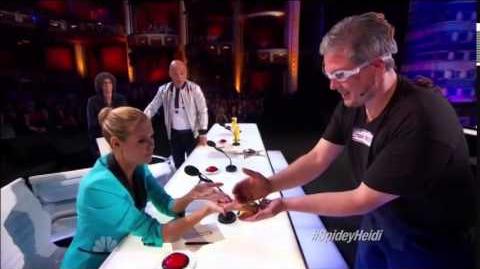 External Links